Estimated read time: 2-3 minutes
This archived news story is available only for your personal, non-commercial use. Information in the story may be outdated or superseded by additional information. Reading or replaying the story in its archived form does not constitute a republication of the story.
Lori Prichard reportingThe Syracuse Police Department took an unusual stand today. Officers publicly reacted to the jail sentence of a woman convicted of beating to death her 10-year-old stepdaughter.
Angela Andrews pleaded guilty. The police statement reflects how this crime outraged even investigators.
It was a case of child abuse so unthinkable, so unimaginable, it rallied the police department.
The Syracuse Police Department issued a statement this afternoon in response to Andrews' sentencing. The statement is dripping with emotion for the girl and disgust for her stepmother. It's almost as if these police officers are trying to make it up to Shelby for the horrendous abuse she endured as a child.
Shelby Andrews was found by Syracuse police with her body bruised from head to toe. She had black eyes and bite marks. Shelby died crumpled in a small closet. She choked on her own vomit as she took her last breath. Shelby's stepmother sat just feet away watching a movie.
Lt. Tracy Jensen found Shelby's body. "We wanted the death sentence. We wanted capital punishment in this case," he said.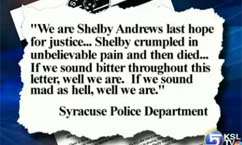 Normally the public sees the stoic face of an officer working through a case. But not this one. A statement written by Syracuse police says in part, "We are Shelby Andrews' last hope for justice. Shelby crumpled in unbelievable pain and then died."
The statement goes on to say, "If we sound bitter throughout this letter, well we are. If we sound mad as hell, well we are."
Lt. Jensen said, "There are certain things in your mind as an officer you never forget, and this is one of those calls that will never go away."
We showed Curtis Evans, chair of Critical Incidence Stress Management Team and also a firefighter, the statement. "Yeah, I can see the anger and the heartache," he said.
Evans and his team of volunteers step in and talk to first responders about tragedy on the job and how to come to terms with it. "We try to do it within 72 hours of the incident so that it's still fresh in their memory and they haven't started to develop any life-changing tendencies because of the stress that they're under," he said.
Lt. Jensen admits some Syracuse officers did get help from CISM. They had to for peace of mind. "The homicide of a little girl is probably the worst of the worst," he told us.
In our interview with Syracuse police, they mentioned that had this case gone to trial, the actual severity of the abuse Shelby endured would have outraged this community. We have posted the Syracuse police officers' statement on a link on this page.
×
Related links
Most recent Utah stories