Estimated read time: 5-6 minutes
This archived news story is available only for your personal, non-commercial use. Information in the story may be outdated or superseded by additional information. Reading or replaying the story in its archived form does not constitute a republication of the story.
SALT LAKE CITY — The group met largely through Job Corps and mutual friends and was apparently tightly-knit.
"We were all like brothers and sisters," Terry Carey testified Thursday. "Period."
But when one of their own, Patricia "Smurf" Ramirez, 20, went missing, they knew very little about it. She was last seen alive July 8, 1986.
"We went around and asked everybody what they knew," Carey said. "Nobody really knew anything. Nobody said anything."
Ramirez's body was found July 13, 1986, on a hillside east of Memory Grove. She had been dead for several days. Utah's Chief Medical Examiner Todd Grey said the death was classified as a homicide caused by ligature strangulation. A piece of the woman's bra was found around her neck. Her killing went unsolved for almost 25 years, when her former boyfriend, Thomas "Peanut" Pennington, 46, was charged with murder, a first-degree felony.
During a preliminary hearing Thursday, Joel Murray said he knew Pennington, Ramirez and Carey through Job Corps and they would often attend parties at Pennington's house. Pennington and Ramirez were a "basic couple — close."
He said he last saw Ramirez between 2 p.m. and 3 p.m. on July 8. She asked for a ride and he said he drove her to an apartment building or motel. Later that day, he said he arrived at a party at Carey's house and was asked to give "Peanut" a ride somewhere.
---
I get out because I want to see what's going on in my trunk. I look back there and I see something in my trunk, something of pretty good size.
–Joel Murray
---
He said he was hesitant, but agreed at Carey's urging. Pennington and two men he didn't know got into his car and directed him somewhere. He said it was the same building where he had dropped Ramirez off earlier.
The men asked him to pop his trunk. Murray said he didn't see them carrying anything when they returned, but felt the added weight in the trunk of his car when they loaded whatever they had picked up.
He said Pennington gave him directions to a second location, near a hill.
"I hadn't been to that area before," Murray testified. "My mind was still geared to getting back to that party."
When they stopped, Murray said he was again asked to open the trunk.
"I get out because I want to see what's going on in my trunk," he said. "I look back there and I see something in my trunk, something of pretty good size."
Whatever it was, he said it was covered and Pennington asked if he wanted to see it.
"I looked at him and I got this bad feeling, this weird feeling, and I said, 'I don't know what you guys are into, but I don't want to be part of it,'" Murray testified.
He returned to the driver seat and felt the car become lighter as the men removed the item from the trunk and walked up over the hill.
"When you saw that package, what did you believe that was?" prosecutor Vincent Meister asked.
"I believed it was a body," Murray said. "A human body."
They later returned to the party, where Murray said he heard Pennington tell Carey that "Smurf" was dead. He said Carey came up to him and asked if the woman was dead.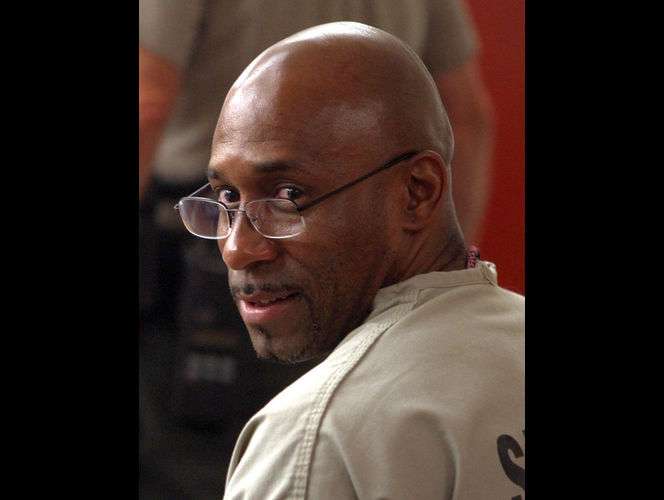 "I said, 'I don't know anything. ... I just gave these gentleman a ride like you asked me to,'" Murray recalled, stating that he put "one and one together." "I just had this feeling inside of me that that had to be Smurf in my trunk."
He conceded that while he has had numerous interviews with police since that night, he didn't tell police some things and may have lied about others. He said he was scared and cited an unspoken rule that "on the streets," the protocol when someone dies is to keep quiet.
"A good snitch is a dead snitch," he said. "I went into a mode of, 'I don't know nothing, I didn't see nothing.'"
Eventually he said he made an agreement with prosecutors to tell the complete truth. "That's what I'm telling right now," he said.
Carey said he didn't remember telling Murray to drive Pennington anywhere the night of July 8, but he remembers the men and two others arriving at the party together. He said he remembers seeing Ramirez the day before Pennington told him she was dead.
"(Ramirez) said she thought someone was following her and that she was scared," he testified. "I thought she was tripping and said, 'Ain't nobody following you.' We all looked around and didn't see anybody, but I wish we'd looked a little closer."
The next night, he said Pennington announced that Ramirez was dead.
"We were all flipping out that she was dead," Carey said. "What I understood at that time from him was everybody wanted to know where and he said the hills, he didn't know where. ... We were all just looking at him trying to figure out what was going on."
Carey said he suffers from brain lesions and is currently on five different medications, including two to treat diagnoses from bipolar disorder and schizophrenia. He agreed when defense attorney Michael Sikora asked him if he had "all kinds of gaps" in his memory, but said at least once, gesturing to Pennington: "I don't believe that man killed nobody."
The hearing ended Thursday when he became "real agitated" and asked 3rd District Judge Robin Reese to stop the hearing. He is expected to finish testifying Friday. Attorneys indicated they need a second full day for additional testimony. After all the testimony is heard, Reese will then determine if there is sufficient evidence to order Pennington to stand trial.
×
Photos
Related stories
Most recent Utah stories