Estimated read time: 2-3 minutes
This archived news story is available only for your personal, non-commercial use. Information in the story may be outdated or superseded by additional information. Reading or replaying the story in its archived form does not constitute a republication of the story.
Dick Nourse reportingWe're already bombarded with reminders that the holiday season is about to begin.
Thanksgiving is Thursday, and that means turkey. There's a Salt Lake woman who has celebrated the holidays for 23 years by collecting turkeys and giving them to families who can't otherwise afford one.
Celebrating the good works of "The Turkey Lady" is just the story we need tonight from The Nourse Files.
By day, Jill Carlston is a mild-mannered registered dietitian.
But come November, she's proud to say she becomes "The Turkey Lady." She says her motto is a turkey on every table.
Jill says it started when she "would walk, literally door to door, for weeks and weeks, begging people for money … 'Would you like to help us buy a turkey for a family?' They'd give me money."
Jill says, "The first Thanksgiving, I gave 16 turkeys to one food pantry. At Christmas I gave 30, and then last year, we distributed 3,816!"
Three thousand, eight hundred and sixteen frozen turkeys is why Jill Carlston's Annual One Woman Turkey Distribution Operation now must be managed from the back of a donated 18-wheeler in a grocery store parking lot.
"And that's one way that you can give some help that lasts for more than just that meal," says Jill. "Because I want them to be able to cook their own turkey, in their own oven, for their own family."
Now, just before Christmas, volunteers from churches and anti-hunger groups pick up the frozen turkeys and distribute them to families.
Jill says, "There are just a lot more people who are poor and need help."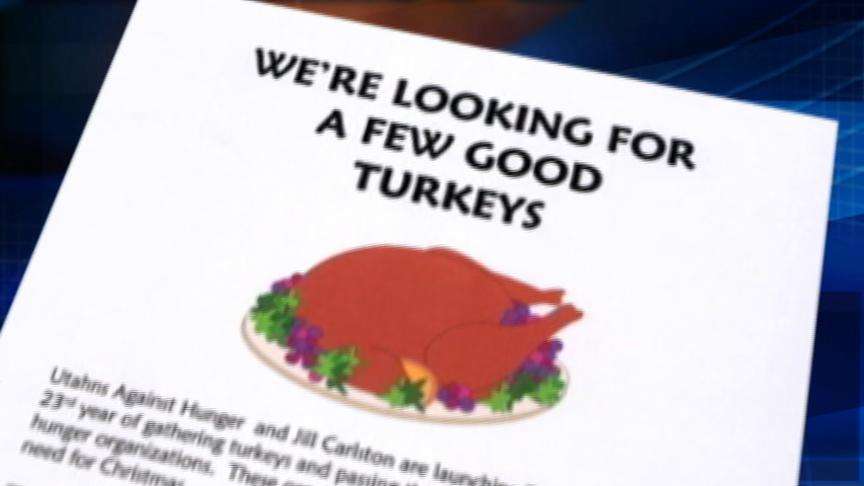 Jill remembers one year, a father broke down in tears when a volunteer delivered a turkey dinner to his family after he'd lost his job just before Christmas.
She says, "And then the next year he came back to the clinic or the pantry and brought money because he had a job. He wanted to help someone else, which is one of the great things that I like about this because it spreads."
Everyone from the governor of Utah to church and civic groups has honored Jill Carlston because she's proved that one person can make a difference. Way to go, Jill!
If you'd like to find out how you can help the Turkey Lady, or to find out how you can start this kind of project in your community send a letter to:
Turkey Lady Project
c/o Utahns Against Hunger
P.O. Box 522001
Salt Lake City, UT 84152-2001
×
Most recent Utah stories