This archived news story is available only for your personal, non-commercial use. Information in the story may be outdated or superseded by additional information. Reading or replaying the story in its archived form does not constitute a republication of the story.
SALT LAKE CITY — Kidney stones are very common among adults and can be very painful — quite possibly the worst lower back pain you'll ever experience. But how do you know when you have a kidney stone and what can you expect from your doctor in treating it? Here are a few ideas.
What are kidney stones?
Kidney stones are masses of crystals and proteins that obstruct the urinary tract. While they are typically no bigger than 5 millimeters in diameter — the size of a pin head — the intense pain they cause makes them feel like they are the size of a giant ball of razor wire pushing its way into your bladder.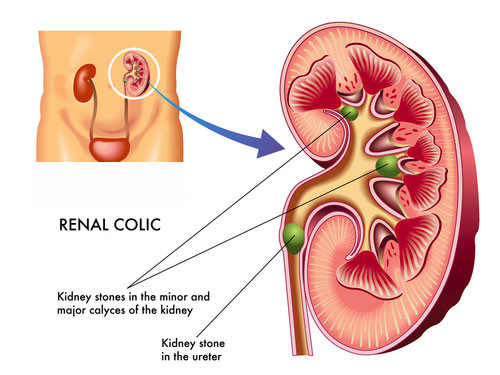 Some people are more likely to get kidney stones than others, but the actual formation of the stone is a very complicated process. The exact cause of the stone depends on the type of material of which it is made.
According to the U.S. National Library of Medicine, calcium stones are the most common type of kidney stone, affecting mostly men between the ages of 20 and 30 years old. Other types of stones include:
Cystine stones, which form in people who have the genetic disorder cystinura.
Struvite stones, which are usually associated with infection of some type and are most commonly found in women.
Uric acid stones, which are caused by gout or chemotherapy.
Symptoms
The following are common symptoms of a kidney stone:
Blood in the urine
Extreme, sudden pain in the back that rotates downward
Constant urge to urinate If you experience these symptoms, you should see a doctor as soon as possible. Medical professionals will then use several different tests — such as a urine sample, an intravenous pyelogram (X-ray of the urinary tract), CT scan, or a blood test — to prove your ailment is, in fact, a kidney stone.Treatment and Prevention
Ask Nurse Suzy
Treatments for kidney stones include:
Implementing various pain control methods until the stone passes. Sometimes a doctor will have you strain all urine and "catch" the kidney stone so he or she can evaluate it. But most kidney stones dissolve in the bladder and are never retrieved.
Diet changes to prevent further stones occurring
Lithotripsy — a medical procedure that uses high-energy shock waves to break up the stone and thus allow for easier passage.
Nephrostolithotomy — a medical procedure that uses ultrasound guidance of a small needle to move the kidney stone downward
Surgery to remove the stone. This can be done using either open surgery (going directly through the kidney) or closed surgery (going in through your bladder).
If you are one of the unfortunate people prone to kidney stones, doctors suggest the following preventative measures:
Reduce calcium in your diet; this would include calcium supplements and Vitamin D.
Avoid dehydration, poor fluid intake and immobility of fluids in your body. Drink plenty of fluids at all times. If you have heart problems, it will be more difficult for your heart to pump fluids around your body in a way that will help prevent kidney stones. In such a case, consult your doctor.
Reduce intake of food that produces uric acid, i.e. meat, nuts, yeast, caffeine, some vegetables (asparagus, cauliflower, mushrooms, carrots, potatoes, peas and spinach) and seafood (namely, sardines, trout, tuna, sprat, mackerel, ocean perch, anchovies, herring, halibut, salmon, shrimp and lobster).
Having a kidney stone is an experience you'll never forget. I had a kidney stone many years ago and can personally vouch for the fact that the pain of a kidney stone is equal to the pain of childbirth. Getting medical treatment quickly is the best way to get yourself through this painful situation.
---
![](http://media.bonnint.net/slc/2495/249582/24958217\.JPG)

About the Author: Suzanne Carlile ---------------------------------

Suzanne Carlile, "Nurse Suzy," has been a nurse since 1982. Her main focus is critical care and nursing education. She holds a master's degree in nursing, is a Certified Emergency Nurse, and a member of NNSDO Intermountain West Chapter.

×
Related Links
Related Stories