Estimated read time: 2-3 minutes
This archived news story is available only for your personal, non-commercial use. Information in the story may be outdated or superseded by additional information. Reading or replaying the story in its archived form does not constitute a republication of the story.
EPHRAIM, Sanpete County — More than 30 years after losing a special treasure, a Utah woman is reunited with an item that holds very sentimental meaning.
Cristin Edmunds lost a half-dollar coin 31 years ago at the home she grew up in. Edmunds said the coin was special because it was something her father gave to her. The two spent many occasions on the front porch of their house.
"He had given me a 50-cent piece coin and I was tossing it in the air and catching it and I dropped it and it rolled down in a crack on the porch, underneath the front window," Edmunds said.
She said she was devastated as she watched the half-dollar coin roll out of sight.
"I thought I was the only kid in the world with one of these cool coins," she said. "It was pretty special."
However, the moments on the porch with her father would become even more valuable when just a couple of years later her father, Rick Gonzales, passed away with cancer.
---
I always remembered that I'd lost it and it was something special from my dad. So, I've always thought about it.
–- Cristin Edmunds
---
"She was a daddy's girl," said Edmunds mother, Lynette Olson.
The coin was found a couple days ago, when the home she grew up in was torn down.
"I always remembered that I'd lost it and it was something special from my dad," Edmunds said. "So, I've always thought about it."
"We just got past the house and I said you need to turn around, I've got to go find her money," Olson said. "It was almost like something said go get her money."
The man behind the controls of the backhoe was Dustin Barton, who Olson used to babysit. Together, Barton and Olson grabbed a shovel and started looking for Edmunds' coin.
"There was not much actual digging," Barton said, "just scraping bits of dirt at a time."
In just a couple minutes of digging, the coin was found.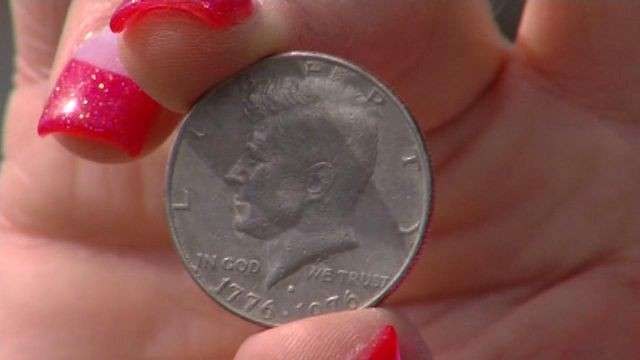 "It felt pretty good to see the reaction of Lynette and to know what it meant to Cristin and the people who were here with them," Barton said. "They were pretty excited."
Olson took the coin to Edmunds, knowing she was having a tough day with the demolition of her old house.
"I could tell she had been crying, and I said maybe this will help you to feel a little better," Olson said. "I held out my hand and handed her her 50-cent piece, and then she really started crying."
Even though the coin has been buried in the dirt for 31 years, it is still only worth 50 cents. But to Edmunds, the half dollar is priceless.
"It's pretty special. I haven't held this or seen this for 31 years," Edmunds said. "My dad, when he gave it this to me, he said I could either run down to Mr. Lee's and spend it or I could keep it forever. Now, I can keep it forever."
×
Photos
Most recent Utah stories