Estimated read time: 2-3 minutes
This archived news story is available only for your personal, non-commercial use. Information in the story may be outdated or superseded by additional information. Reading or replaying the story in its archived form does not constitute a republication of the story.
Sam Penrod reportingFumes from an underground gasoline leak are making more people move from the town of Gunnison. Residents there are tired of smelling gas, worried about the effects it might cause, and angry over what they see as a lack of response from state environmental officials and Top Stop.
It involves a leak of more than 19,000 gallons of gas from an underground tank -- that's enough to fill an average swimming pool.
City officials held an emergency meeting yesterday because they are concerned about the slow pace and poor communication they are getting about this cleanup effort. The city hired its own environmental inspector, who tested about a dozen homes in Gunnison today. And the preliminary report is alarming; the majority of the homes tested have fumes inside and will now undergo more testing.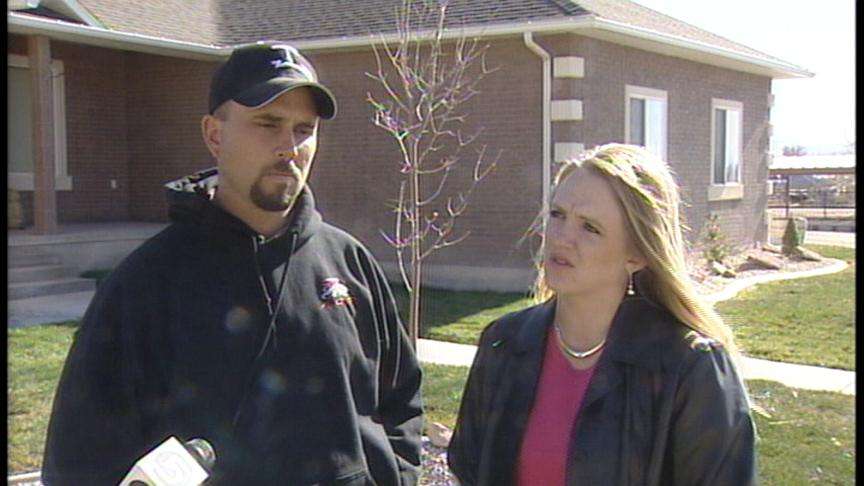 Jim and Madeline Wallace, who live next door to the Top Stop gas station, left for a hotel after they say fumes made them sick.
"They don't think about the citizens here and their health. Nothing has been said about how people are getting sick around here. Now they have to leave their homes. I have to leave my home; my doctor told me I had to leave my home," Madeline said.
Their neighbors are going too. Dick Townley said, "We're going to have to leave. I just took her down to the doctor, and she said we need to get out for a while, take a little time, see if she'll get better."
More than three blocks away from the Top Stop is Jeremy and Marlo Taylor's home. They smelled fumes last week, and air samples showed dangerous levels in their home.
Marlo Taylor said, "He came in and did some tests in our home and told us it was probably unsafe to be there."
Two days ago, an environmental contractor began working to build an underground barrier to try and stop the gas from seeping into their home.
We researched the topic and discovered a similar sized leak at a gas station in Maryland last year. An underground tank lost 25,000 gallons of gasoline into the ground, prompting an emergency response. The state of Maryland has filed suit against Exxon for millions of dollars, and the oil company faces a class action lawsuit from neighbors for $1 billion.
If the leak in Maryland is being taken so seriously, Gunnison residents wonder why this situation isn't.
Lori Nay, with the Gunnison City Council, said, "It's traveled through our neighborhoods; it's hurt our Main Street; it's hurt our businesses. And the public safety issue is what the city is most concerned about right now."
Gunnison is also having a lawyer look into the city's rights in this case. As for the three families moving out because of the fumes, so far they've received no assistance from Top Stop or the state and are having to pay for it out of their own pocket.
×
Related links
Most recent Utah stories