Estimated read time: 2-3 minutes
This archived news story is available only for your personal, non-commercial use. Information in the story may be outdated or superseded by additional information. Reading or replaying the story in its archived form does not constitute a republication of the story.
Whit Johnson reportingThe official countdown to ski season has begun. In fact, the season is just several days away, or at least that's the plan, if the weather cooperates.
The first Utah resort to open its lifts will be Alta on Nov. 15. The following day several other resorts will kick off the season.
The familiar sounds of ski season are beginning to echo through Utah's canyons. The mountains got some snow earlier today, and skiers already are taking advantage of it.
A light dusting on the slopes of Alta gave back-country skiers a taste of what's to come. As lift operators prepare for opening day, a few season passes and a couple of practice runs are common sights.
George Marshall, of lift operations at Alta, said, "I'm hopeful for at least an average season."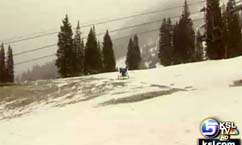 This storm definitely brought some colder temperatures and two to six inches of snow to the mountains, but if Alta wants to open on the 15th, Mother Nature still has some work to do.
"Like every year, it's all weather-dependent," Marshall said.
Scheduled Opening Days
Alta - Nov. 15
Park City - Nov. 16
Solitude - Nov. 16
Snowbird - Nov. 17
The Canyons - Nov. 17
Courtesy: Ski Utah
After Alta, Park City and Solitude will open next on the Nov. 16, followed by Snowbird and The Canyons. Other resorts will open later in the month or in early December.
That's the plan, according to Ski Utah, but it may depend on whether there's enough snow on the ground.
Back-country skier Robert Sederquist told us, "It's tough to say. It could be like this one week and eight feet of snow the next."
There is some concern for a possible delay, but comfort that, sooner or later, the season is just around the corner.
Skier Tricia Petzold said, "My favorite part is getting bundled up, drinking hot cocoa on the sidelines with the kids."
As we mentioned, those opening dates could change depending on the snow.
×
Related links
Most recent Utah stories