Estimated read time: 2-3 minutes
This archived news story is available only for your personal, non-commercial use. Information in the story may be outdated or superseded by additional information. Reading or replaying the story in its archived form does not constitute a republication of the story.
Deanie Wimmer ReportingMore and more parents are taking toy safety into their own hands, as each day seems to bring a new recall of toys with lead. So, how do you help your kids Stay Safe?
We started by testing the accuracy of those home lead-test kits. We took some dollar store toys to the state lab and some came back positive, so we knew they had some lead in them. But if we'd relied on the home kits, in most cases, we'd have had no idea.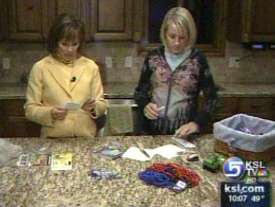 First, Thomas the Train, then Dora, and now so many different recalled toys with lead paint, it's hard to keep track.
Erin Pickrell said, "You have 100 toys in your toy box and probably half of them have been recalled or have lead. These ones have already been chewed on and I sit there and think, 'what's this doing down the road a little ways to my kid already?' So I don't know what to do."
We went to Erin Pickrell's kitchen and used three home test kits to check for lead in three toys we already knew tested positive: some rapper teeth, popular mardi-gras-style beads and some star beads. Then we dug out of her toy box a Thomas the Train and Dora that had been recalled.
We followed the directions on three different home test kits and only found any lead at all.
The First Alert kit gave us some positive readings, but the other two kits, used on the same toys, never gave us another reading.
Federal regulators don't recommend home test kits because screeners found, as we did, they're reliable less than 50 percent of the time. For worried parents, though, there's another option, from pediatricians like Doctor David Folland.
"If a child has been playing with a toy that's known to have lead, I would recommend they get a lead test and know for sure," Dr. Folland said.
Instead of testing toys, test your tot. A simple blood test will show if kids are getting exposed to lead, then you can get rid of the source.
Dr. Folland said, "They test for very small quantities, but it doesn't take very much lead, unfortunately, to cause damage to the child."
It's not a cause for panic, says Dr. Folland, but it is a good motivator to get rid of suspect toys.
Pickrell and many other moms are also making different choices this Christmas. We came across a consumer group that has a list of the top 10 "Lead Free" toys for Christmas.
×
Related links
Most recent Utah stories