Estimated read time: 2-3 minutes
This archived news story is available only for your personal, non-commercial use. Information in the story may be outdated or superseded by additional information. Reading or replaying the story in its archived form does not constitute a republication of the story.
Tonya Papanikolas reporting A newly renovated veterans section at the Salt Lake City Cemetery is a fitting tribute to veterans, but it wasn't a few months ago. Eyewitness News showed you the bad conditions of the gravestones last spring. Today, that has changed.
This is almost like a different cemetery compared to what it was before. All the headstones are now cemented in straight rows. One man said he felt it was now Salt Lake City's Arlington.
Last spring, all Marty Pratt could read on his uncle's headstone was his name. "It was probably a good two feet higher than it sits now, and the one next to it is even worse," Pratt had explained.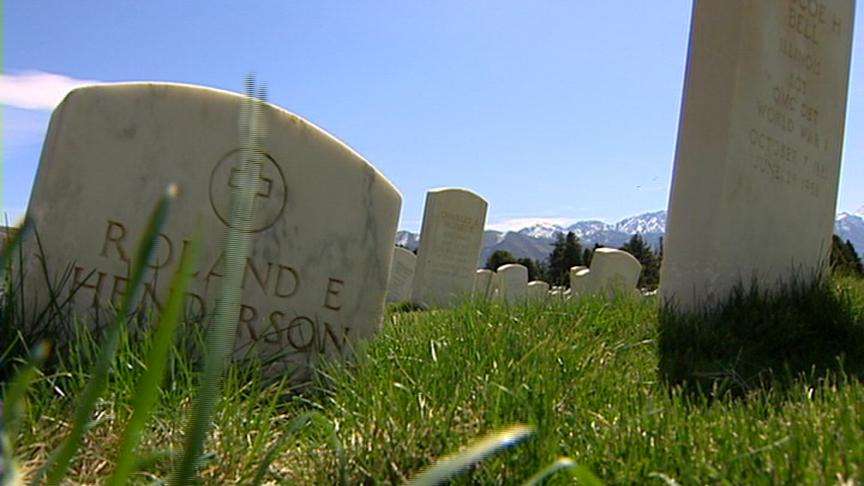 The gravestone was one of many in the veteran section of the Salt Lake City Cemetery that had sunk; some so low you couldn't read anything. Others tilted back and sideways. No row was even.
Over the summer that all changed. "I'm elated! I just can't believe what they've done to it," Pratt said today.
After seeing KSL's story, Onyx Construction decided it wanted to donate the time and money to fix the 1,500 graves. "We didn't even have to think long about it. It was just something we felt like we wanted to do," explained Mike Phillips, president of Onyx Construction.
Onyx crews, subcontractors and volunteers donated their time. A few months and $200,000 later, the site can finally honor the men and women buried here. "It honors them with the honor they were due from the very beginning," Veterans Advisory Council Chairman Johnnie Janes said.
Pratt said, "I think there's a lot of men who are smiling down on us today."
This morning Pratt visited his uncle's grave again and noticed something he'd never seen before: the day his uncle died. "This is the 49th anniversary of his death, and we never knew it," Pratt said.
"Those kind of things just touch your heart, and it just makes us proud that we were able to do this," Phillips said.
To families like Pratt's, the effort to fix these graves means everything in the world. "There was one time I would be almost embarrassed to say my uncle had been buried here, but now I'm proud. I can tell people where my uncle is buried and tell them to go up and look at it," Pratt said.
Some headstones were damaged so badly that new ones had to be ordered. Once they arrive, Onyx Construction will come back to set those in place. When that happens, veterans groups say they want to have a rededication service for the site next Memorial Day.
×
Related links
Most recent Utah stories