Estimated read time: 2-3 minutes
This archived news story is available only for your personal, non-commercial use. Information in the story may be outdated or superseded by additional information. Reading or replaying the story in its archived form does not constitute a republication of the story.
Photo courtesy of Mike TerryAlex Cabrero and Mary Richards reporting
There are now 45 states that have a quarter engraved after them. Today, Utah became that 45th state. It's all part of the U.S. Mint's 50 State Quarters Program, and the party celebrating Utah's 25-cent piece was huge.
Each state gets its own quarter, but it goes in the order in which the state became a state. Delaware got the first quarter in 1999, then every two or three months the next state is celebrated.
Of all the big days Utah has ever had, this one has to rank right up there. "That is pretty cool," Gov. Jon Huntsman said.
Thousands of residents agreed with the governor.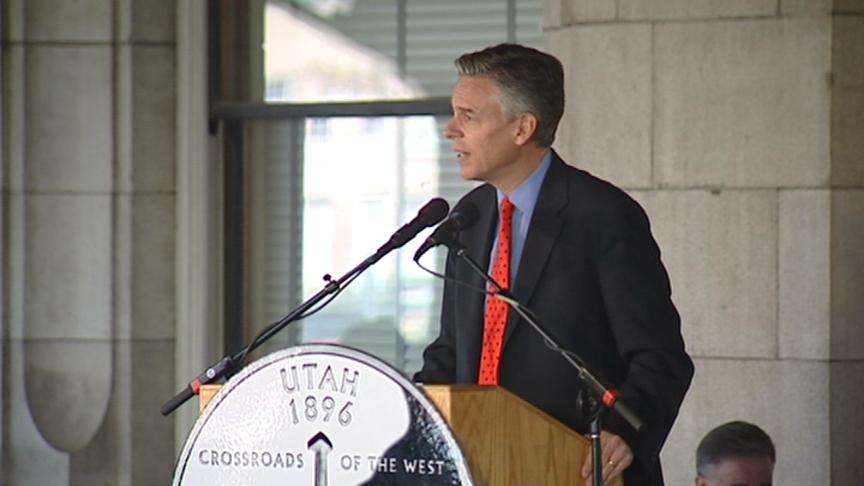 "It's a beautiful coin that also teaches an important piece of American history," explained Gloria Eskridge of the U.S. Mint.
Finally, Utah has its very own quarter.
Hundreds of elementary students were there to see it, and got a free Utah quarter out of the deal. But do they know what it represents?
One student thought the picture maybe celebrated when the first president became president of the United States. Another said, "So the train tracks could go all around." That's closer!
"The coming of the trains of the West and the East," fourth-grader Sam Moore said.
Fourth-grader Charles Bozernick pointed out, "The quarter has a nail and two trains on it." Then fellow student Serena Fackrell clarified that that was, "The golden spike."
Yeah, the golden spike: That moment in American history connecting the East and the West at Promontory Summit in northern Utah.
Huntsman signed a proclamation making today Utah Quarter Day and asked for three elementary students to help him sign the paper. Fourth-grader Cal Ruiz was one of them. "I put on the date. I put two and '0', and my friend put '0' and seven," Cal explained.
Rookie coin collectors then lined up, some paying $5 for a two-coin set from the Denver and Philadelphia mints.
"It's just a little but of history. You see, this coin will be in circulation for a long time, and this is kind of cool to see it," Draper resident David Rodriguez said.
Soon, everyone will see it. "Now, can you imagine 450 million coins that are soon going to be in circulation for the entire world to see?" Huntsman said.
Eyewitness News has received calls from some people thinking Utah's quarter was incorrect because of the date on it. The Golden Spike happened in 1869, but the quarter says 1896. It's not a mistake, though, 1896 is when Utah became a state. That's what the 50 State Quarters Program is all about.
×
Most recent Utah stories