Estimated read time: 2-3 minutes
This archived news story is available only for your personal, non-commercial use. Information in the story may be outdated or superseded by additional information. Reading or replaying the story in its archived form does not constitute a republication of the story.
Amanda Butterfield ReportingEast High School is cashing in on the popularity of "High School Musical."
In just a few days you'll get to see a live version of the hit movie in the school where it was filmed, and this time all the stars are "real" East High students.
Once again "High School Musical" is at East High School. But this group performing it is all students, practicing for their school musical this year, which happens to be Disney's "High School Musical."
East High theater teacher Kevin McClellan says, "We're taking advantage of the situation because our school has become a tourist attraction."
"High School Musical" was shot in the halls of East High, and the made-for-TV movie became the biggest ratings grabber ever on the Disney Channel.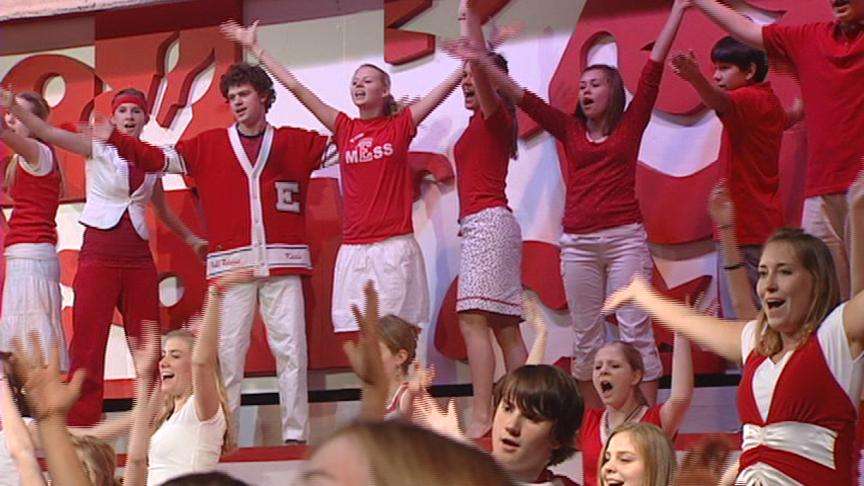 That's why these students are thrilled to perform it. Samir Suthar plays Troy Bolton. He says, "The rehearsals have been a lot of fun."
And now the pressure is on. Madi Bringhurst is Sharpay Evans. She says, "Everyone knows the 'High School Musical' songs, they're pretty big hits."
But during this live performance, don't expect everything you'd see in the movie. McClellan says, "We've tried to put our own twist on it. I think when people do recognize bits from the movie they're going to be really excited. The songs have all been arranged to make it more musical theater oriented and a little more exciting than what they originally were."
Ellie Colvin plays Ripper. "The movie is definitely different. It's Disney and it's a movie. This is different because it has more songs. It's more Broadway," says Colvin.
And now, with all the practice they've put into it, they're ready for show time. Suthar says, "I am very excited for opening night. We are definitely ready and totally ready to knock everyone's socks off."
Opening night is this Thursday. Two shows already have sold out, and people from as far away as Germany have bought tickets.
×
Most recent Utah stories