Estimated read time: 2-3 minutes
This archived news story is available only for your personal, non-commercial use. Information in the story may be outdated or superseded by additional information. Reading or replaying the story in its archived form does not constitute a republication of the story.
Tonya Papanikolas and Mary Richards Reporting It may not be a big election year, but voters in Utah are deciding on several big issues. One such issue is Referendum 1.
Across the city vouchers have stirred up a heated debate, and the issue is bringing people out to the polls today.
At Wheeler Farm, poll workers weren't expecting such a big turnout. Some voters stood in line for as long as an hour and a half. At other polling sites, single receiving tables weren't enough for all the voters.
Many have said it's the school vouchers drawing people to the polls, but others say a consistent 20-point lead in the polls may actually keep people from turning out because it's not a close margin. Some may feel their votes won't make a big difference.
This voucher issue has cost a lot of money for both camps. So far, they've spent over $8 million on things like ads. The Director of the Hinckley Institute of Politics says that's unprecedented. "I'm not aware of anything in the past that would equal the money and volunteer hours that have been spent on this voucher issue," Director Kirk Jowers said.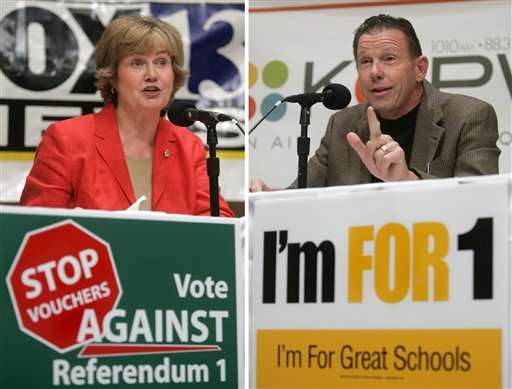 Yet, with all this money, Jowers says it doesn't seem it's made much of difference in changing peoples' minds. Many people had already formed their opinions before the media and didn't really change them.
Parents for Choice in Education sent about 50 volunteers across the state to drive people to the polls. They said at this point, most people had already made up their minds. "It's important that everybody who supports vouchers get out, cast their vote; that's how we can win," Lincoln Fillmore of Parents for Choice in Education said.
Meanwhile, Utahns for Public Schools campaigned on street corners this evening with signs. The anti-voucher camp has consistently led in the polls.
Lisa Johnson with Utahns for Public Schools spent her day at PTA headquarters where volunteers are working the phones. "In case there's somebody out there who forgot to vote, we want to remind them," Johnson said.
Voter Jared Nelson says, "I don't know if it's best for everybody to go for vouchers or not, but I just hope everyone takes a look at the issue and decides for themself."
The polls close at 8:00 tonight. Despite the polls and predictions, both camps are trying to get people out to vote. They each think that will make the difference for them.
×
Related links
Most recent Politics stories