Estimated read time: 2-3 minutes
This archived news story is available only for your personal, non-commercial use. Information in the story may be outdated or superseded by additional information. Reading or replaying the story in its archived form does not constitute a republication of the story.
Jed Boal Reporting Victims of a sexual predator in their own home are relieved police caught up with him after he hid in plain sight for 22 years.
He sexually abused both of his daughters in Utah. Tonight, one of those daughters and his former wife talk about the emotional wounds. The family lives in Pocatello, Idaho now.
Lyndal Ritterbush escaped from prison in Utah in 1985. Today he faced a judge in Oregon. His ex-wife and youngest daughter are dealing with raw emotions brought to the surface again.
Ritterbush didn't exactly live a life on the lam. Friends in Salem, Oregon knew Ritterbush as Robert Rhoden, a retired Air Force colonel and U.S. Marshal. In truth, he was wanted by U.S. Marshals.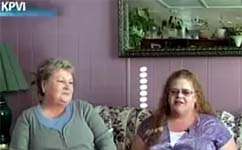 For years his ex-wife, Beverly Clayton, and his daughters wondered where he was.
Clayton said, "I ache for him inside. He could have been so much more. He's nothing but a child molester on the front page of the newspaper."
Police caught up with Ritterbush last week. He was living under his brother-in-law's name.
Twenty five years ago Ritterbush first went to prison for the sexual assault of his oldest daughter. He went back convicted of attempted abuse of Leah, who has many new questions.
"How did he live? How did he get away with it for so long, and who he's come in contact with?" she asked.
They fear he may have more victims.
His arrest brings up a mix of emotions.
Beverly said she felt, "Happiness in my heart that he was going to finish paying his debt to society."
In Oregon, Ritterbush lived across the street from a state corrections facility. Soon, Utah corrections will get him back. And his family will continue to heal from years of pain.
"It was like my kids were being punished by the sins of their father," Beverly said.
Ritterbush is charged with identity theft. He's being held on the escape charge.
The mother and daughter say they will follow the case. Leah Ritterbush says she wants to talk with him about what he did.
×
Related links
Most recent Utah stories