Estimated read time: 9-10 minutes
This archived news story is available only for your personal, non-commercial use. Information in the story may be outdated or superseded by additional information. Reading or replaying the story in its archived form does not constitute a republication of the story.
Update: Two additional homes were evacuated overnight along Lake Mountain Road in Eagle Mountain, bringing the total of evacuated homes to 588. Earlier estimates of the number of evacuees were as high as 9,000, but have been lowered to approximately 2,500, according to the Bureau of Land Management. The fire was 30 percent contained as of Saturday morning with an estimated containment date of June 26.
"There were efforts going all night last night with a lot of success," said Dan Osterkamp with the BLM. "We are looking optimistically at getting (some neighborhoods) back in their homes at the very best this evening."
Those wishing to donate or volunteer services whould contact the Saratoga Springs division of the American Red Cross at 801-373-8500. Callers have been asked to leave a message with what they wish to donate. The Red Cross will then organize donations.
---
SARATOGA SPRINGS — Evacuated residents of Saratoga Springs and Eagle Mountain are anxious to go home. But no one is sure when that may happen.
"If you have been evacuated from your home, you will not be going home tonight," Utah County Sheriff Jim Tracy told families Friday night. "We can't control any facet of (the fire) due to the wind."
The frustrating news was delivered as part of a tense day for residents of the two communities as a wildfire burned dangerously close to several neighborhood subdivisions, forcing between 8,000 and 9,000 residents to flee their homes.
Saratoga Springs officials estimated 1,500 homes had been evacuated, with some residents under a mandatory evacuation order and others leaving voluntarily.
No structures had burned as of Friday evening. Utah Gov. Gary Herbert said he believed all properties would be protected and hoped residents could be back in their homes by Saturday evening.
"I don't know of any homes in imminent danger," he said.
But the fire has been unpredictable. And Herbert said he was unsure if there would be any residual power problems in the area because some power lines have burned.
Dubbed the Dump Fire, it quadrupled in size Friday to 4,000 acres, prompting officials to call for mandatory evacuations as strong winds pushed the blaze within half a mile of some houses.
The winds averaged about 20 mph most of the day Friday in Saratoga Springs with gusts up to 30 mph. The fire was 20 percent contained Friday morning. But because of the erratic winds pushing the flames past fire breaks, firefighters expected the containment percentage to be far less.
"This is a tough fire to fight," Herbert said. "The wind is really causing havoc. It's jumping roads, 25- to 30- foot gaps."
While Herbert noted that everything that could be done was being done to fight the fire, he said, "It's going to take a significant effort to get it contained."
Four helicopters, an air tanker, five hand crews including three "hot shot" groups, numerous fire engines and 200 firefighters were battling the fire. More firefighters were expected.
Thousands evacuated By 3:15 p.m., Saratoga Springs officials warned residents: "All neighborhoods west of Redwood Road and south of Stillwater should prepare for evacuation."
The evacuation included the neighborhoods north of Stillwater Drive and the west side of Redwood Road. Mandatory evacuations were originally ordered for Kiowa Valley, Eagle Top, Fremont Springs and Silver Lake subdivisions. Later Friday morning, the Jacob's Ranch subdivision, which includes 300 homes, was added to that evacuation list.
---
My initial reaction was, 'What do I do?' It's intense. ... It's just surreal. I would never imagine this would happen to me.
–Christian Judd
---
Utah County Sheriff's Sgt. Spencer Cannon said deputies on Friday escorted residents who were cut off from their homes back into the closed areas to quickly grab pets and needed medications.
Christian Judd awoke to officials knocking on his door and telling him to evacuate.
"My immediate reaction was, 'So what do I do?' I don't even know. I've never been in this experience before," Judd said. "I just didn't imagine this would happen to us here."
"It's just crazy. I'm just trying to get pictures and stuff you can't replace," said April, one of the residents who was forced to evacuated her house. "Everybody's really nervous."
Many residents said they grabbed pictures and computers and similar items that were not replaceable. One resident grabbed an Olympic flag in addition to her pictures.
Saratoga Springs resident Noelle Pikus-Pace, who finished fourth in skeleton in the 2010 Vancouver Olympics, was also forced to leave her home.
"It's just crazy to see everyone packing up and leaving," she said. "The wind is just so strong out here."
To help ...
Contact the Saratoga Springs division of the American Red Cross at 801-373-8580. Callers have been asked to leave a message with what they would like to donate. The Red Cross is organizing donations.
But Pace said it was also "neat" to see the community come together to help everyone evacuate their homes safely. As of 12:45 p.m., the fire was changing direction near threatened homes.
"The fire is burning laterally, which means it's not burning toward them," said Bureau of Land Management spokeswoman Camie Lee.
There were reports that one firefighter suffered a minor first-degree burn while fighting the wildfire.
The dynamics of the fire situation changed several times throughout the day as officials scrambled to keep up with the latest information to plan for evacuations.
Credit: ksl.com user Todd
Credit: Kellen Hyer
Credit: Daniel Knudsen
Credit: Daniel Knudsen
Credit: Daniel Knudsen

"We're just trying to get information. We've got places to stay tonight, but we just want some information so we can go back," said a frustrated Brian Bainter, who was evacuated.
Bainter said his family grabbed a few items from their home before being forced to leave.
"I didn't think (the fire) would really get to us, so we packed some clothes to get us by for a couple of days. Other than that, a couple of pictures, a laptop," he said.
In addition to knocking on doors to alert residents to the evacuation order, police and fire officials used social media such as Twitter and Facebook to get the word out to residents.
"Mandatory evacuations for the entire subdivision of Saratoga Hills and adjacent subdivisions! Please evacuate to Westlake High school as soon as possible. Please do so in a calm and orderly manner," the Saratoga Springs Police Department said in a tweet at about 10:45 a.m.
Rep. Jason Chaffetz, R-Utah, said he has spoken with many residents concerned about losing their homes, but encouraged people to follow evacuation orders for their own safety.
"We've had a couple people reluctant to leave. That seems silly to me," the congressman said.
"Common sense"
Herbert said the state would be offering the local communities whatever support they need, noting that the state's role in these situations is collaboration and facilitation. He said all entities were working well together.
"The state's role is really to help coordinate the efforts by local communities," Herbert said. "We're making sure we're doing what's necessary to back them up."
A Fire Management Assistance Grant was approved Friday to help with the cost of fighting the fire. The Federal Emergency Management Agency agreed to cover 75 percent of the firefighting costs.
The Dump Fire was accidentally started Thursday by target shooters. No criminal charges will likely be filed against the shooters, but civil lawsuits are a possibility, said Jason Curry of the Division of Forestry, Fire and State Land.
Grabbing valuables
Evacuated residents were encouraged to go to Westlake High School, 99 N. Thunder Blvd. Alternate evacuation centers were set up at Vista Heights Middle School, 484 W. Pony Express Parkway, and an LDS meetinghouse at 3332 E. Windhover Road.
Liz Mercado said she left her house to run an errand about 10 a.m.
"The sky was all orange and black," she said.
At that time, Mercado said her neighbors weren't overly concerned about being evacuated.
But when she attempted to drive home after her errand, police had started to block off the road. She convinced them to let her go back to her home to grab her dogs and priceless mementos made from her son who passed away. Police told her she had two minutes.
"Can't replace pictures, can't replace other things that were made because we knew he was going to pass away," she said.
Mercado said as of 6 p.m. Thursday, everyone was telling her that she wouldn't need to worry about evacuating. But by 10 a.m. Friday, that had all changed.
Michelle Goertzen was also surprised by the evacuation order.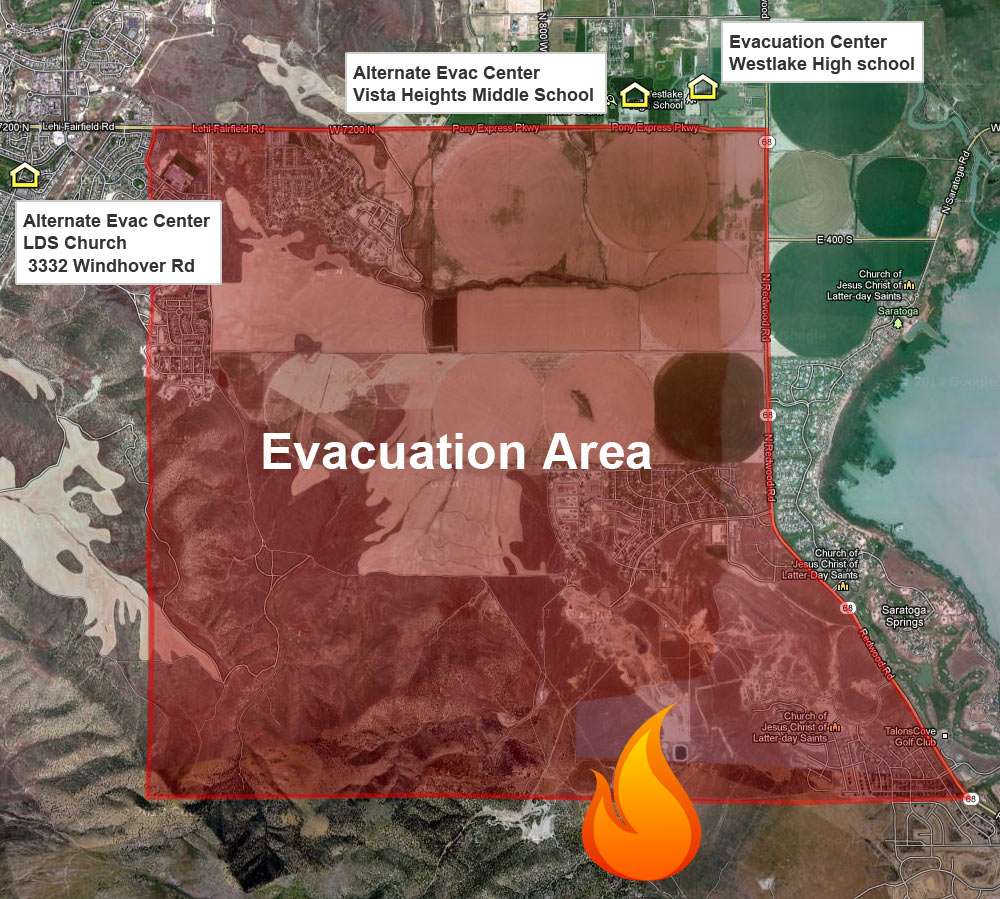 "They knocked on my door, said really loud, 'We need you to get out.' I said, 'How long?' They said 15 minutes and they stayed there until we left," she said.
The fire was about a mile away from Goertzen's home when she and her family were evacuated. They were able to grab photo albums, important documents and their cat before leaving.
Mike Wren and his wife weren't as lucky. The Wrens, who live in the Jacob's Ranch subdivision, weren't home when the evacuations and closures occurred.
"We were at work and we were both told not to go home," he said.
David Wadley was evacuated from his home in Eagle Mountain.
"There was orange light coming through the blinds in the bathroom so we opened it up. Up the street behind us, there are cop cars coming down the street and they were running up to everybody's house telling them all obviously to get out. We knew what was going on, so then we just stopped, ran upstairs and picked up the kids' bags," he said.
Marcelo Salomone, bishop of the Spanish-speaking LDS Cedar Pass 13th Ward in Eagle Mountain, said about 500 members of his congregation were evacuated. He is offering his church for people displaced by the fire.
"We are ready for them. We have our building open … not just for our people but for everyone," he said.
Public information lines
Eagle Mountain: 801-789-6600
Saratoga Springs: 801-766-6503
Salomone said he has lived in the area for 10 years and has never seen a fire like this one. "Stay calm, stay together as a family and be communicative all the time," he encouraged.
Saratoga Springs Mayor Mia Love said the evacuations were appropriate to ensure safety.
"Everyone's pretty calm, we're ready. ... Everyone's just taking precautions and they're on top of it," she said. "Absolutely the No. 1 issue is the safety of the residents."
Judd said he worked a night shift, checked the fire from a hillside when he returned home and thought it looked far enough away. But knowing about the wind in the area, he knew things could change quickly.
"The wind can pick up easily and it can shift," he said. "That's what it did."
Contributing:Stephanie Grimes
---
×
Photos
Related stories
Most recent Utah stories