Estimated read time: Less than a minute
This archived news story is available only for your personal, non-commercial use. Information in the story may be outdated or superseded by additional information. Reading or replaying the story in its archived form does not constitute a republication of the story.
(KSL News) -- During his visit to Utah, former President of the United States Bill Clinton weighed in on the hottest political issue in Utah: school vouchers.
In a full-page newspaper ad today, voucher supporters portrayed Clinton as a supporter of school choice. It featured a letter he wrote when he was Governor of Arkansas, regarding a school choice initiative in Milwaukee.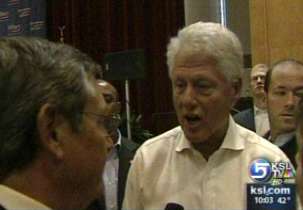 In a one-on-one interview following his speech at the U, Mr. Clinton denied the implication he's a voucher supporter. He said, "That's not accurate. I supported in Milwaukee in 1992 the right of the city to do that because of the unusual circumstances there. When I was president, I did not support vouchers because I thought that it took, we hurt 95 percent of the students by taking money away from them for the questionable benefit for the 5 percent or so that accessed them.
"You can make an argument for the vouchers. But the problem is, with the vouchers you always wind up taking money away from 90 percent of the people to help the minority. That's my problem with it."
Mr. Clinton said, however, that he believes states do have a right to create voucher programs.
×
Most recent Utah stories