Estimated read time: 3-4 minutes
This archived news story is available only for your personal, non-commercial use. Information in the story may be outdated or superseded by additional information. Reading or replaying the story in its archived form does not constitute a republication of the story.
SALT LAKE CITY — A viral video of a child immensely enjoying his first root beer has led to an online debate about obesity in America and parental responsibility.
The video, posted Friday on YouTube, has amassed more than 400,000 views and has ignited an online firestorm.
"This, people, is how obesity starts," read the first comment, as viewers argued back and forth over whether it was responsible parenting to allow the young child to drink sugary soda. Despite the child's parents stating that they do not plan on allowing their son to make drinking soda a habit, the video has added fuel to an often vitriolic debate about the state of obesity in America and how it can be fought.
After New York Mayor Michael Bloomberg recently proposed a ban on the sale of large sodas and sugary drinks at restaurants, the nation — and world — reacted with fervor. Some said it is not the government's responsibility to regulate what people eat.
Bloomberg defended the proposal, though.
"The percentage of the population that is obese is skyrocketing," he said Thursday on MSNBC. "We've got to do something."
---
"This, people, is how obesity starts."
---
And obesity remains a real concern in the United States. As of 2010, more than one-third of U.S. adults were obese, according to the Centers for Disease Control. The number of states with an obesity rate of 30 percent or higher went from zero to 12 between 2000 and 2010, and medical costs associated with obesity have skyrocketed to $147 billion.
Utah has a lower obesity rate than the rest of the nation, at 24 percent, but more than 60 percent of Utahns are either overweight or obese. Additionally, more than 20 percent of Utah children and teenagers are obese.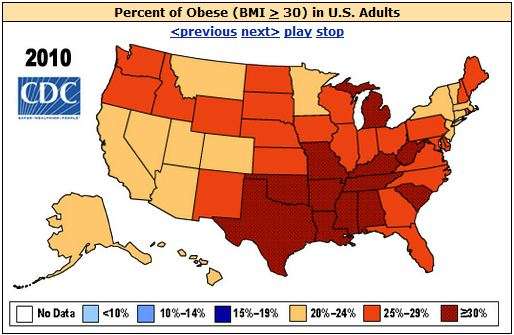 As Americans have grown larger, the focus has turned to preventing obesity in children. A 2003 study found that parental support is obligatory in helping overweight and obese children to lose weight, and in 2011, an opinion piece published in the Journal of the American Medical Association called for the temporary removal of obese children from their homes.
Even Michelle Obama has gotten in on the action, making her primary cause as first lady tackling the childhood obesity problem. The first lady regularly makes appearances to promote healthy living as a part of her Let's Move! campaign.
The U.S. government, too, has gotten involved, passing a law two years ago that limits when students are allowed to use vending machines. Davis and Box Elder High Schools were hit with thousands of dollars in fines last month for violating the regulation, leading some, including Utah Rep. Rob Bishop to rail against the government for perhaps getting too involved in children's lives.
"It was wrong for congress to invade the role of states," Bishop said at the time.
But the public reaction to behaviors that could promote childhood obesity — such as drinking soda — demonstrates the ambivalence felt by a country trying to strike a balance between big government and smaller waistlines.
×
Related links
Related stories