This archived news story is available only for your personal, non-commercial use. Information in the story may be outdated or superseded by additional information. Reading or replaying the story in its archived form does not constitute a republication of the story.
KAYSVILLE — Vending machines in high schools are pretty standard these days. But two Utah schools have landed in trouble for violating federal school vending machine regulations. In fact, they've had to pay some hefty fines.
Utah Rep. Rob Bishop railed against his colleagues for passing a law two years ago that limits when students can use vending machines. On the House floor Wednesday, bishop called the law "silly" and said the federal government had no business passing it in the first place.
"It was wrong for congress to invade the role of states. It was wrong to punish kids for these silly reasons,"
For more than three minutes, Bishop railed against the Healthy, Hunger-free Kids act of 2010. Not the fact that the bill encourages more nutritious foods in schools, but the reasons Davis and Box Elder High Schools have been penalized.
"They were hit with a $16,000 and $19,000 fines respectively," Bishop said. "Now, what was the heinous crime for which these fines were levied against the funds that go to the kids? During the lunch hour, the vending machines were plugged in."
The federal law stipulates, among other things, that carbonated beverages cannot be sold during the lunch periods. Certain types of candies are also prohibited. Davis High thought it was in compliance with its machines; but after receiving a second violation, it has removed the necessary items.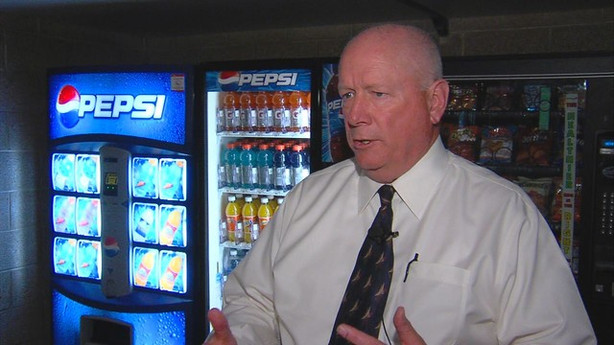 These fines hurt big because money generated by the machines helps to buy computers and support various student activities.
"The money that we use from the vending machines and pop go to put on our school musicals; to buy music for band and orchestra and the choir programs; to help debate," said Dee Burton, principal of Davis High.
Burton supports the idea of healthy eating habits, especially in the schools. But he said this law forces some students to leave campus to find the items they can no longer get at school. He hopes that the law could be adjusted.
"I would hope that they would listen to some of the concerns of the public and recognize that maybe they can adjust the law to still accomplish what they want to accomplish and still give the kids an option," Burton said.
Bishop said he wants to let the local schools and parents decide on what's available for lunch, and keep the Feds out of it.
"But it is wrong for this body to think that every issue has to be decided here in this room," he said.
Davis high is now in full compliance with the law, so all carbonated beverages and any candy that sticks to your teeth are gone.
×
Photos
Related Stories