Estimated read time: 3-4 minutes
This archived news story is available only for your personal, non-commercial use. Information in the story may be outdated or superseded by additional information. Reading or replaying the story in its archived form does not constitute a republication of the story.
SEVIER COUNTY — An early summer wildfire season is putting firefighters on the front lines across the state. Thursday evening, there were seven large fires burning in Utah.
Three of the fires are burning in south-central Utah, within a close proximity with one another. Firefighters are gaining ground on the Lake Creek Fire, but they are still struggling to contain the Lost Lake and the Box Creek fires — which have each grown to more than 2,300 acres in just a few days.
Box Creek Fire
In Sevier County Thursday, there wasn't nearly as much smoke as there has been the past few days. But Sandy Nelson with the U.S. Forest Service said that's simply because there's not as much wind.
The Box Creek Fire is still burning and, in some places, still a concern. Nelson said the Forest Service has employed "bulldozers and hand crews to keep it away from private structures and people's property."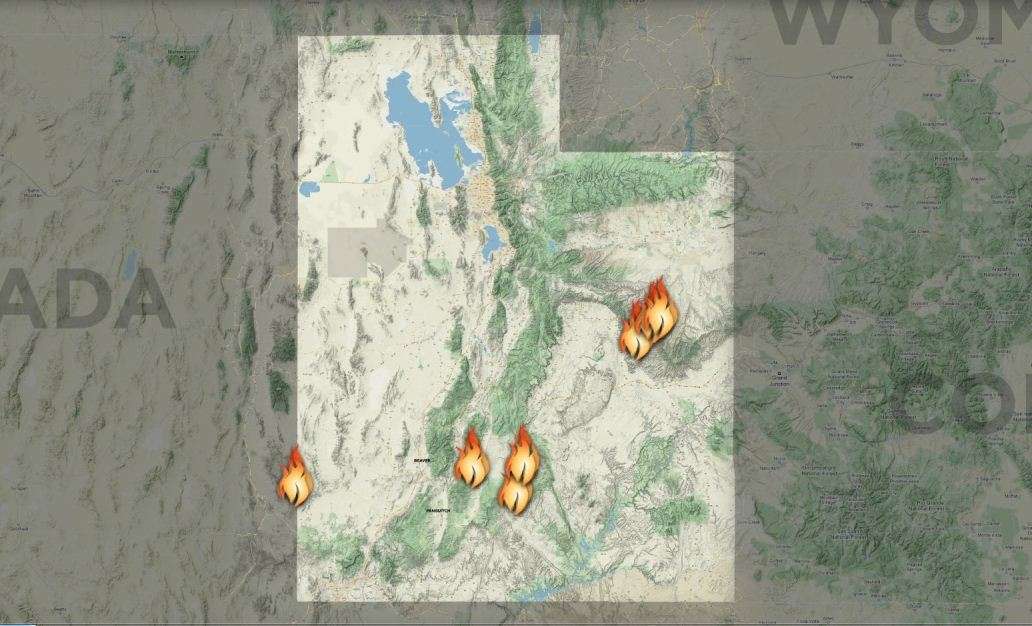 A lot of this fire is burning is very rugged terrain, where the only way to get to the fire is to hike there. A helicopter has been dumping water where it's even harder to get to.
A prescribed burn is blamed for sparking the blaze — but it's a complicated story.
Last month, the Forest Service found roughly 2,300 acres near Greenwich, in Piute County, that were overgrown and quickly becoming a huge wildfire danger.
The Forest Service decided to light 200 acres of it, doing small patches at a time so they could control it. Those 200 acres were a success, so they lit another 650 acres.
That was a success, too, but to be safe they kept a few dozen firefighters on the mountain to watch it. That's standard procedure, and six days later they started pulling crews off.
"On day number seven, unfortunately, we got winds upwards of 30-50 miles per hour," said Jason Kling, district ranger with the U.S. Forest Service.
Those winds couldn't have been predicted almost two weeks prior to starting their burn.
---
... all it took was an ember, Kling says, that "blew across the meadow and landed into some heavy, thick, dead and down (brush). And with the wind, it took off on us."
---
"We were completely within those parameters and felt comfortable when we did that," Kling said.
But winds fanned the spot, and all it took was an ember, Kling says, that "blew across the meadow and landed into some heavy, thick, dead and down (brush). And with the wind, it took off on us."
The Forest Service also says there were no red flag warnings when they lit the fire, and none predicted.
Lost Lake Fire
The Lost Lake Fire us burning near Teasdale in Wayne County. It is also in rugged terrain, but access to get to flames is a little easier than the other fire.
"It's only the beginning of the fire season, and we're already seeing extreme conditions," said Brandon Hoffman, fire operations manager for the Lost Lake fire.
Related:
Community meetings were held Wednesday for both fires. There, fire crews explained what they were doing and where residents could ask questions.
Three homes were evacuated just outside of Teasdale, but only one was being lived in; the other two are summer cabins.
Crews say with as dry as it is out there, and no rain in sight, they just want people to be careful with fires. All it takes is a single ember to spark a huge wildfire.
"I can't stress enough how people need to think about if they are going to have a campfire or where they are going to put it," Hoffman said.
The cause of the fire is still being investigated.
Other wildfires
Meanwhile, three more fires are burning in eastern Utah. They were started by lightning, but they've only burned about 200 acres combined.
The largest fire in the state was also sparked by lightning on June 1. Since then, the White Rock fire has scorched more than 6,300 acres along the Nevada border. As of 5 p.m. Thursday it was 65 percent contained.
×
Photos
Related links
Related stories
Most recent Utah stories