Estimated read time: 2-3 minutes
This archived news story is available only for your personal, non-commercial use. Information in the story may be outdated or superseded by additional information. Reading or replaying the story in its archived form does not constitute a republication of the story.
Courtney Orton Reporting One driver died and two others were injured in three separate overnight crashes.
The wrecks kept state troopers busy all night, and now they are investigating to see if alcohol was a factor in all of the crashes.
The most devastating wreck happened on State Road 201. Troopers say it appears a man drove toward the I-215 offramp, realized it wasn't where he wanted to go, and pulled back onto S.R. 201.
His vehicle sideswiped another car. He lost control, and his vehicle rolled five times.
Sgt. Anthony Carrubba of the Utah Highway Patrol said, "According to the witness accounts, speed was definitely a factor. We have some estimates as high as 100 miles an hour on the vehicle."
The driver was not wearing a seat belt and was thrown from his vehicle. He was flown to the hospital where he later died.
A passenger in that car was wearing a seat belt and had only minor injuries. The driver of the other car was not seriously hurt.
And, a woman was critically injured in a crash on I-15 near 13600 South. The UHP says the woman was ejected from her car when she slammed into a guard rail as she exited onto Bangerter Highway.
Troopers do not think she was wearing a seat belt.
UHP's Jacob Hicks said, "This is another reminder of why seat belts are important, and speed also plays an important role in driving safely."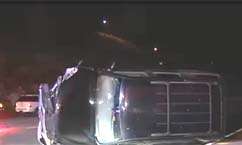 And a crash on I-215 near 6200 South sent a teenage driver to the hospital last night.
UHP tells us the 18-year-old driver's car collided with a concrete barrier.
Investigators say alcohol could be a factor in all of these wrecks.
- - - - - -
×
Most recent Utah stories