Estimated read time: 2-3 minutes
This archived news story is available only for your personal, non-commercial use. Information in the story may be outdated or superseded by additional information. Reading or replaying the story in its archived form does not constitute a republication of the story.
Gene Kennedy ReportingVictims taking on their attackers: It's happened many times in just the last week. Victims are taking the law into their own hands. In some cases the outcome is good; in others it's a death sentence. Now local police weigh in on the issue.
Surveillance video captured a robbery at a Kentucky Fried Chicken in North Carolina. When the manager couldn't get the safe open the robber pulled the trigger, but the gun didn't fire, so the manager fought back.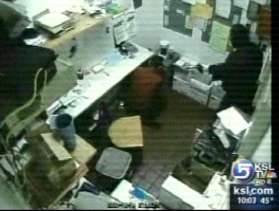 Salt Lake City police sergeant J.R. Nelson said, "I would not suggest people doing this."
Lt. Lamar Ewell adds, "We encourage people not to fight back."
It's the same message we hear every time we do these stories, but many are ignoring the warnings.
Lt. Ewell said, "I think it's human nature, and we're tired of being victimized."
Last night at Fashion Place Mall a woman fought off a teenager trying to steal her bag. It was a similar story yesterday at the E-Z Mart in Salt Lake City, only the thief was armed. The clerk didn't care; he beat the robber with his own gun. And two days ago, when two men tried to carjack a couple one of the victims chased the thugs away with a metal pipe then actually followed them to a residence and called police. That makes three cases of victims fighting back this week.
Lt. Ewell said, "Well, as a police department we haven't noticed it's been on the rise. It's probably just a coincidence in the last month or so."
In the case of the attempted car-jacking the victim helped police arrest two suspects. But in August the owner of a hair salon lost her life when police say she pulled a gun on an armed thief, and the crook shot her to death. Police arrested one of the suspects but they're still looking for a second man. That was a case of self-defense, but police believe fighting back cost that woman her life.
×
Most recent Utah stories