Estimated read time: 2-3 minutes
This archived news story is available only for your personal, non-commercial use. Information in the story may be outdated or superseded by additional information. Reading or replaying the story in its archived form does not constitute a republication of the story.
ENOCH, Iron County — A new type of safety apparel could help construction crews really stand out among the hundreds of orange barrels in work zones. And that's the point.
A Utah Department of Transportation engineer came up with the new T-shirt because he wanted to make workers more visible, especially at night.
Construction season is in high gear. Just because the sun goes down, it doesn't mean highway construction crews call it quits.
"In my line of work, we do work nights," said UDOT field engineer Sam Grimshaw. "I have a really good job. I like what I do."
---
It is distinct. It looks totally different than a (construction) barrel does at night, especially at night.
–Sam Grimshaw, safety vest designer
---
During a long nighttime drive home last summer, Grinshaw was wondering how to improve worker safety at night. That's when he came up with the idea for new safety gear.
Right now, road workers wear reflective vests, which have vertical and horizontal reflective strips on them. The Federal Highway Administration requires all workers to wear high-visibility safety apparel that meets required standards. Certain design aspects must be met, including placement, amount and width of such material.
But at night, those vests can sometimes blend in with safety barrels, which also have vertical and horizontal stripes.
Grimshaw wondered what would happen if the apparel or pattern on the apparel was changed to stand out among the barrels. He went to his home in Enoch and got to work. He ordered materials off the Internet, and his wife, who is a seamstress, helped him put it all together.
What Grimshaw came up with is a bright orange shirt with large, reflective, honeycomb/hexagon-type patterns on it.
"It is different," he said. "It is distinct. It looks totally different than a barrel does at night, especially at night."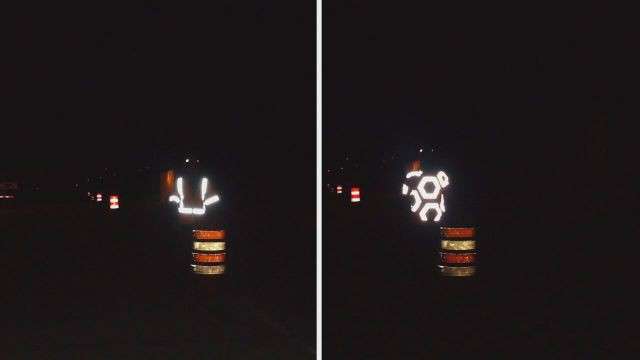 Grimshaw showed the creation to his boss, who took it to UDOT's safety coordinator. The shirt was shown during a safety meeting, along with the pictures, and people loved it.
"They were like, 'Wow, it does work!' That was like a pat on the back. Well, maybe there is a possibility."
Grimshaw's shirt isn't approved for use in the field yet, but it might be in the future.
In 2010, requirements were updated to include optional criteria to evaluate high-visibility garments for flame resistance. Finished garments must be certified by an accredited, independent third-party laboratory to ensure that the materials meet the specified performance criteria imposed by the standard.
Grimshaw doesn't plan to start his own company if the T-shirts are approved for use in the field. He figures UDOT or someone else can produce the shirts. He says didn't design it for money, he just did it to try to help his fellow workers be safer.
"If we could save lives, even a life, I think it would all be worth it," he said. "Of course it would, why wouldn't it?"
×
Photos
Most recent Utah stories