Estimated read time: 1-2 minutes
This archived news story is available only for your personal, non-commercial use. Information in the story may be outdated or superseded by additional information. Reading or replaying the story in its archived form does not constitute a republication of the story.
LITTLE CANADA, Minn. — Six people were hospitalized when an out of control vehicle crashed into a popular bar and restaurant Wednesday afternoon in Little Canada, Minnesota.
Ramsey County Sheriff's spokesman Randy Gustafson says a 51-year-old female driver appears to have had some type of medical emergency.
The vehicle veered across the road, struck a power pole and then careened into Gordie's Place.
The truck was moving with such force that it crashed all the way through a wall, not coming to a rest until it pinned five people against the bar.
It was previously reported five people were injured.
Gustafson and an Allina Medical spokesman later confirmed six people were transported to Regions Hospital for injuries.
Rescue crews had to extricate those victims, while cutting the driver out of her car as well.
All six - the woman driving the truck and five bar patrons - were rushed to the hospital.
The driver and two of the patrons suffered serious injuries, according to Gustafson.
A bartender said the victims were simply at the bar talking when the truck blasted through the wall.
He managed to jump out of the way but the customers were struck.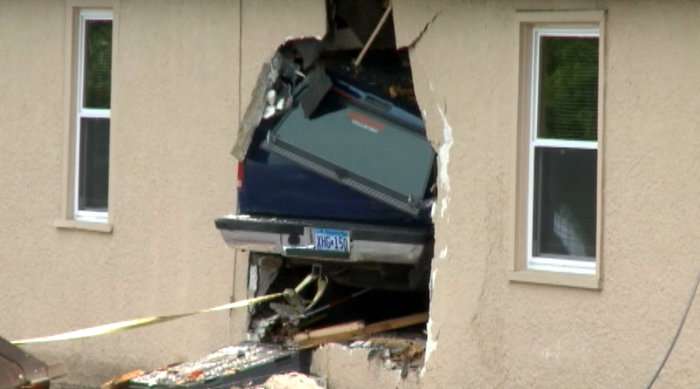 The bartender said all five were able to stand and walk once they were freed, but added that all of them suffered cuts, bruises and contusions.
Response to the situation was quick as an undercover Ramsey County Sheriff's Deputy was driving by Gordie's at the time and saw the woman's truck speed by.
He summoned help immediately.
Gustafson said a nearby Good Samaritan volunteered the use of their nearby Bobcat to move the truck just enough to free the people trapped behind the bar.
×
Photos