Estimated read time: 2-3 minutes
This archived news story is available only for your personal, non-commercial use. Information in the story may be outdated or superseded by additional information. Reading or replaying the story in its archived form does not constitute a republication of the story.
Lori Prichard ReportingA Taylorsville woman is lucky to be alive tonight, after her motor home exploded on Bangerter Highway. The 70-year-old says she's counting her blessings.
Afton Harris says she's been all over the country in her motor home without a problem, but she ran into trouble close to home.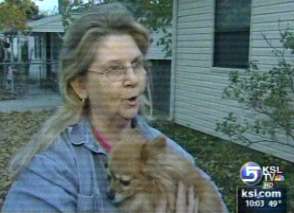 Black soot is all that's left of Afton Harris' motor home. She says the fireball began with what felt like a thump.
"My motor home shook a little bit, not much, kinda like a shifty you know," Harris said.
That shaking and shifting turned into a plume of smoke and flames and then explosions.
Harris said, "Then all of a sudden I hear this boom and I thought, 'oh no!'"
Oh no was right! Firefighters described that boom as missiles flying through the air. Oxygen tanks inside the vehicle caused the explosions. That's when Harris panicked. "Please help me, please help me, somebody help me," she screamed.
She escaped unhurt then ran back to get her 18-year-old dog.
"Her name is Foxy, and she's a very good little dog. She's my companion," Harris said.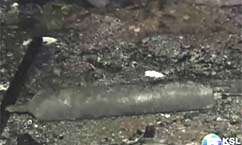 Nothing remains of the motor home, but it was her Bible and a cross her husband gave her she'll miss more than anything.
Harris said, "You know, material things, the Lord can always replace those. I was just so afraid someone else was going to get hurt."
Of all those who stopped to help, no one got hurt.
"The little lady kept saying, 'You will be o.k., you will be o.k., the Lord will take care of you.' And I was just so thankful," Harris said.
Afton says she's shaken up but feeling o.k. She's hasn't slept since last night's accident. By the way, she says she plans on buying another RV. She has no intention of slowing down at the ripe young age of 70.
×
Photos
Most recent Utah stories