This archived news story is available only for your personal, non-commercial use. Information in the story may be outdated or superseded by additional information. Reading or replaying the story in its archived form does not constitute a republication of the story.
GARDEN CITY, Rich County — As we pushed up the dirt trail, a hot wind blew past our faces.
The sun was beating down on us and it promised to make the latter part of our half marathon much tougher than even the hills around Bear Lake could.
I felt the altitude difference right away. We started the race at about 5,900 feet and ran up and around 6,900 feet. I was huffing and puffing and trying desperately to keep moving one foot in front of the other for the first couple miles of the race.
As often happens in long-distance races, I had met a friend whose company was making the miles (and hills) much more enjoyable.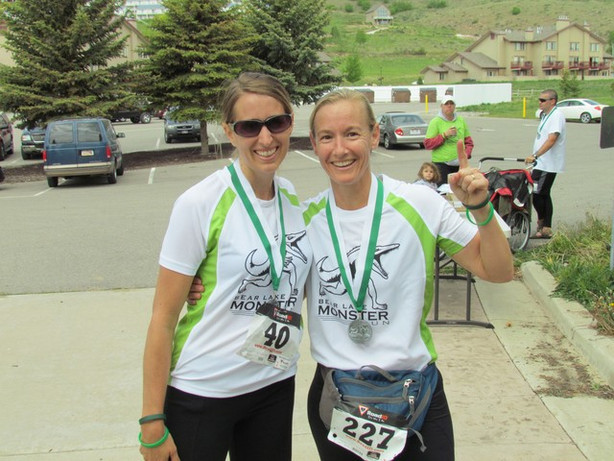 Candice Pope Eborn hadn't planned to run the Bear Lake Monster Half Marathon, but some gentle prodding from her brother-in-law, the founder of the race and the friend who'd invited me to run, convinced her to upgrade from the 10K to the half marathon just minutes before the race.
Her original plan was to run the Bear Lake Half Marathon on June 9 to honor her mother, Cathy Pope, who'd passed away in October 2010. That was a road race that traveled around the shores of the lake, while this was a trail run — her first trail run of this distance. (And there is another version of the trail half marathon on Sept. 1.)
Candice didn't mention her plan or her mom until we'd finished most of our first loop (about six miles).
That's when the run starts to hurt.
That's when the tank starts to feel so empty you consider sucking down Gu, a food of questionable consistency but absolute necessity in endurance sports.
That's when the reasons for running become as important to me as the training and preparation. I told her about the first race I ran for someone else and how I didn't dare walk because of the name I'd scrawled on my bib number.
That's when we started to talk about Cathy. First it was her flower garden, and how it needed some attention. Then it was the fact that Cathy had decided she needed to get into better shape at 58 so she gave up Diet Coke and started walking on her lunch break.
Her children were impressed when Cathy and Howard Pope purchased bikes and began navigating the small town on two wheels. And then she had an accident on her bike that required ankle surgery. Cathy was at home alone on a Sunday morning in October 2010 when a blood clot ended her life far too early.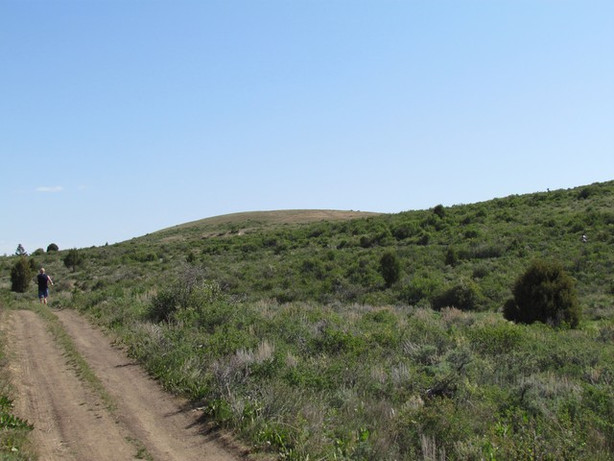 Candice gave me pieces of Cathy along the 13 miles that helped me more than I expressed to her. Some things runners feel together more than discuss with each other, especially when the miles are hard.
She painted a picture of Cathy Pope as a strong, dedicated and loving mom. She spoke of how proud she was of her father for learning to bake bread and keep house after losing his wife.
I shared a bit of myself, a piece of my recent loss with Candice. My mother- in-law, Marjorie Allen Brass, passed away in April after a nine-month battle with bone cancer. I spent a lot of lunches — and a couple of restless nights — with Marge and learned a lot about the woman who raised my husband (including why I'm glad I had children in the 1990s and not the 1950s).
But what impressed me most about my mother-in-law was how she held onto her sense of humor under the most difficult circumstances, how she valued her friends and family, and how she expressed gratitude for just about anything and everything, including the ability to share a soft shell taco with her harried daughter-in-law.
Her gratitude overwhelmed me and still inspires me.
And so I thought of her as we approached the last big hill of what was a scenic but challenging course.
"One more beautiful hill," I huffed. "Let's do this one for your mom."
I didn't wear a watch, so I think the hill was around mile 10 or 11. At least that's what it felt like.
Candice said nothing but we both picked up the pace a bit.
Our breathing was labored, our steps deliberate, and as we approached the halfway point, I realized I would be walking right now if I hadn't suggested we dedicate this stretch to Cathy Pope.
I thought of Marge and how she showed me the way gratitude can transform the mundane into a gift. And I silently asked for her help.
"Thank you, Marge, for loving me and now, if you don't mind, I need a little push," I said in my mind.
We got to the top and Candice's husband took our picture. We high-fived, had some Powerade and headed back down the hill, which we viewed as our reward for climbing the 800 feet to the top.
And somewhere in the downhill, as we reveled in our "desert," we both admitted we wouldn't have made it to the top if we hadn't dedicated the climb to Cathy.
It is fitting, I think, that we gave her mother the hardest part of the race because clearly she inspired her daughter to find beauty in life's challenges.
Candice said she chose to run a half marathon for her mother because her mother was getting into shape, she was changing her life for the better and she was encouraging her children to live healthier lives.
Cathy offered her children a gift, even as she faced her own struggles, and Candice wrapped her heart around it. I know she would be proud of how tough her girl is, just as I know Marge would be proud to know that I am grateful every day that I have the strength to tackle any hill life may offer.
×
Photos
Related Links
Related Stories