This archived news story is available only for your personal, non-commercial use. Information in the story may be outdated or superseded by additional information. Reading or replaying the story in its archived form does not constitute a republication of the story.
SALT LAKE CITY — A blog started by a 9-year-old girl has led to big changes at the girl's school and has called attention to what students worldwide are being served at lunch.
Martha Payne in late April started a blog, called Never Seconds, with her father to rate her school lunches. The Argyll, Scotland, girl included in every post a picture of the day's lunch and ratings based on taste, health and portion size.
Martha's first lunch posting had been up for two days when celebrity chef and healthy-lunch crusader Jamie Oliver discovered it.
"Shocking but inspirational blog," he wrote, linking to it on Twitter. "Keep going, Big love from Jamie x."
"I am really glad he looked in and it has put a smile on my face," Martha said of Oliver's tweet.
What was "shocking" was what Martha had been served for lunch: her first posting included pizza, a lone croquette and a small amount of corn. The next posting found a cheeseburger with no toppings, two croquettes, three slices of cucumber — to replace the peas Martha opted to skip — and a popsicle. The following days found a similar lack of fresh, healthy options.
The blog quickly went viral, amassing more than 100,000 views in the two days following the first picture. It has since garnered more than a million hits.
"I was a bit nervous going to school but everyone was great and I'm glad I haven't upset anybody," Martha wrote.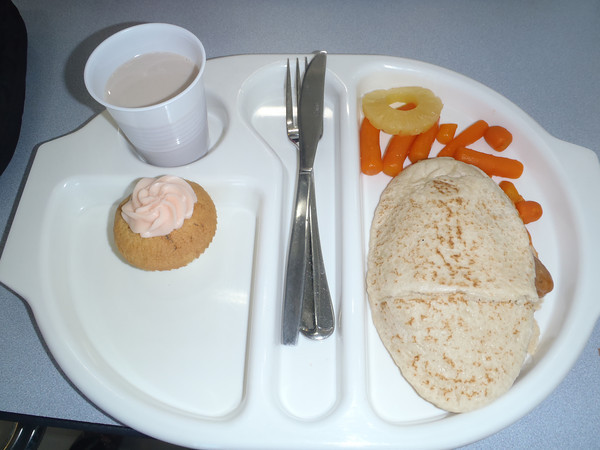 Within a week, Martha said she saw changes at school, including "a new system for ordering food, which I'll explain when I understand it more," and a greater variety of fresh products.
"For the first time ever I have seen at lunch cherry tomatoes, radishes, carrot and cucumber shreddings," she wrote. "I was asked today for the first time, 'Is that enough for you?'"
Gradually, Martha began including photos school children from around the world had sent her of their own school lunches, saying she was "really keen to compare yours with mine."
Martha posted on May 17 that the school had officially decided to allow students unlimited salads, fruit and bread.
"I'm really happy that all of my friends can help themselves to good stuff," she wrote, adding in a later post that "when I started writing this I thought only my family and friends would see it so it's amazing so many people have visited and you all care about school food."
Martha's story has brought the idea of nutritious school lunches into the world's spotlight even as some Americans are caught up in their own debate about what lunch should consist of. The US has recently changed school lunch regulations amid growing concern about the health of the nation's schoolchildren.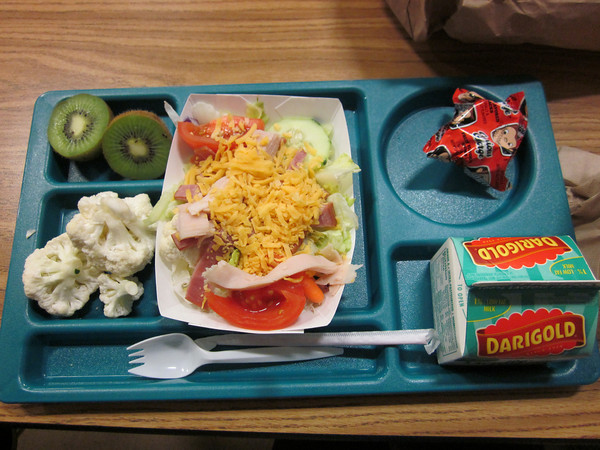 New regulations announced in January mean more fruits, vegetables, and whole grains on lunch trays nationwide, and although the regulations may not be fully implemented for years, some Utah schools were already shifting to healthier options before the guidelines were announced.
"Pizza, hot dogs, those are just staple items, so the only thing we can do is try to make it healthy for them instead of taking it away altogether," registered dietitian Alan Coker said in a [first proposed](<http://www.ksl.com/index.php? sid=14249476&nid=148&s_cid=article-related-3" target=_blank>2011 interview with KSL.
Coker was discussing the changes Granite School District began implementing when the regulations were ) in January 2011.
School districts throughout Utah have made changes, but some have run into problems along the way, as in the case of two Utah schools that were fined earlier this month for allowing students to use vending machines during lunch.
"I would hope that they would listen to some of the concerns of the public and recognize that maybe they can adjust the law to still accomplish what they want to accomplish and still give the kids an option," Dee Burton, principal of Davis High School, said at the time.
×
Related Links
Related Stories