Estimated read time: 2-3 minutes
This archived news story is available only for your personal, non-commercial use. Information in the story may be outdated or superseded by additional information. Reading or replaying the story in its archived form does not constitute a republication of the story.
Alex Cabrero ReportingIt seems there's always one slow car in the fast lane that gets in your way, but it doesn't compare to how slow one vehicle was going on I-215 this morning. That's because it was carrying a bridge. UDOT officials showed off a new toy that they say will save all of us a lot of time and money.
As slow as the vehicle was moving, though, UDOT calls all this a "rapid bridge replacement project." Basically it means taking down the 4500 South bridge today and having a brand new one in its place tomorrow.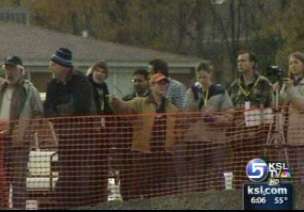 It's about as slow as watching paint dry, but for some people, a whole lot more exciting.
Rich Broadbent said, "It's just fun to be here and see a part of history."
It certainly is history. Never before in America has a bridge been taken down and replaced like this; 4500 South over I-215 is the first.
Rich Broadbent and his wife Marilyn just had to be there, along with hundreds of their neighbors, to see this with their very own eyes. Wasatch Boulevard was packed with people, all trying to see something they'd never seen before.
The project is unique and impressive. An operator controls the machine, called a Self-Propelled Modular Transporter, with a joystick. It picks up the old bridge and moves it to a spot where it later will be demolished.
On Sunday the machine will pick up the new bridge, which already has been built on the side of I-215, and put it right where the old one used to be.
UDOT says if this project goes exactly as planned, other bridge projects in the future could use the same technology.
Shana Lindsey, with UDOT bridge operations, said, "We want to get in and get out. We don't want to impact traffic more than we have to."
It is going to save a lot of construction time. It's also making road construction a spectator sport.
"It's been fun in the neighborhood. People have been really excited," Broadbent said.
Overall, the entire area is expected to be reopened the first week in November. As slow as that vehicle moved, it's still a lot faster than finishing next spring.
- - - - - -
×
Most recent Utah stories