Estimated read time: 2-3 minutes
This archived news story is available only for your personal, non-commercial use. Information in the story may be outdated or superseded by additional information. Reading or replaying the story in its archived form does not constitute a republication of the story.
Sarah Dallof ReportingHere in Salt Lake and around the country protestors called for a day of action against the war in Iraq.
In San Francisco thousands staged a 'die-in' commemorating the thousands of American soldiers and Iraqi citizens who have died since the conflict began.
Protestors in Utah began their march at the State Capitol. People came from southern Utah, Idaho, even from back East. The protest was peaceful, but the messages were heated, some protestors calling for the immediate withdrawal of troops and the resignation of the president.
Hundreds marched from the state capitol to Washington Square, but to protesters it wasn't enough.
Jill Shienberg said, "I don't understand why everyone isn't here outraged at what's being done in our name."
Mayor Rocky Anderson asked, "Why do we not have these grounds full of people who will stand up and say no more to the immorality, to the illegality, to the outrages being committed?"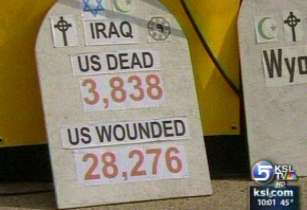 Among the handmade signs and displays were educators, like teacher Ryan Anderson who traveled from Moab to protest. "What we really need to focus on right now is educating our children and providing great public schools," he said.
High school political science and American government teacher John Severo brought students with him. He said, "Hopefully what it's teaching them is they have the right to think for themselves."
There were also those personally affected by the war. Amy Layton's brother is in the military; her friend's husband went to war but didn't come back. "He was younger than I was. He was 21, and he was killed in February," she said.
Displays showed the number of wounded and dead in Iraq. An Iraq veteran spoke against the war then played taps.
Inside the protest it was difficult to find those who support President Bush or the war. Elsewhere downtown we found people more sympathetic to the president.
James Farley said, "I think he's been a terrific president. I think he was dealt a bad hand when he first got the presidency."
Sean Snow said, "I think it would do more harm now to pull out early as opposed to seeing this through to a successful transition."
Police who were watching the protest said they didn't have any problems.
×
Most recent Utah stories