Estimated read time: 4-5 minutes
This archived news story is available only for your personal, non-commercial use. Information in the story may be outdated or superseded by additional information. Reading or replaying the story in its archived form does not constitute a republication of the story.
SALT LAKE CITY — Two prominent New Jerseypoliticians in have put politics aside and have teamed up in a video spoof that is reminiscent of the Seinfeld-Newman rivalry.
Looking to rid himself of the never-ending town hall meetings, New Jersey Gov. Chris Christie decides to take to the street to help the common person. Going to the police station, Christie asks if any fires need to be put out or any cats need to be saved from a tree, but is pushed aside for Newark Mayor Cory Booker, who tells Christie, "I got this."
Booker is a Democrat who recently rescued his neighbor from a house fire. Following his heroic rescue, several people went to Twitter to champion his heroism. Throughout the spoof, Booker shows up wherever Christie appears, acting as the hero, with Christie gritting his teeth, saying "Booker!"
The end scene features Booker talking on the phone to presidential candidate Mitt Romney, telling Romney he would not make a good choice as vice president. Christie grabs the phone, saying: "Excuse me mayor, I got this."
The video was played before the New Jersey Press Association's Legislative Correspondents Club show.
Obama's stamp on history
Heritage Foundation's Rory Cooper tweeted that President Barack Obama added his own name into Ronald Reagan's official biography on the White House website, claiming the "Buffett Rule" was a continuation of Reagan's tax reform policy.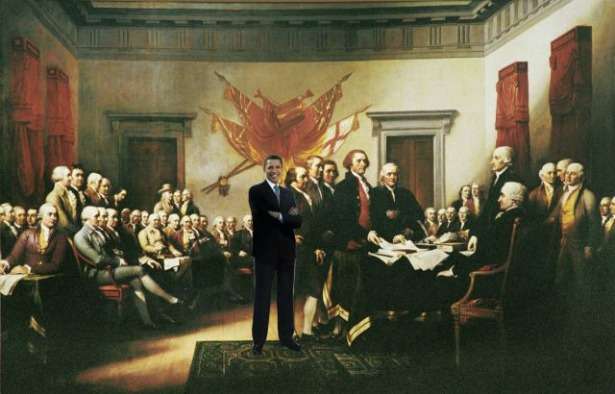 It turns out, Obama's administration added bullet points about his various accomplishments to several other former presidents' biographies. The website Commentary detailed a few of the added points:
On Feb. 22, 1924 Calvin Coolidge became the first president to make a public radio address to the American people. President Coolidge later helped create the Federal Radio Commission, which has now evolved to become the Federal Communications Commission (FCC). President Obama became the first president to hold virtual gatherings and town halls using Twitter, Facebook, Google+,LinkedIn, etc.
In a 1946 letter to the National Urban League, President Truman wrote that the government has "an obligation to see that the civil rights of every citizen are fully and equally protected." He ended racial segregation in civil service and the armed forces in 1948. Today the Obama administration continues to strive toward upholding the civil rights of its citizens, repealing Don't Ask Don't Tell, allowing people of all sexual orientations to serve openly in our armed forces.
On August 14, 1935, President Roosevelt signed the Social Security Act. Today the Obama administration continues to protect seniors and ensure Social Security will be there for future generations.
As a result, several people and organizations, including the RNC, have poked fun at the additions by making ridiculous claims or creating a tumblr gallery of Obama's so-called accomplishments. Many of the claims include a photoshopped image of Obama in various historical events.
Obama's "Vampire" Attacks
As the presidential election heats up between President Barack Obama and former Massachusetts Gov. Mitt Romney, the Obama campaign is looking at a recent tactic to defeat Romney in November: attack your opponents greatest strength. If effective, the opponent has little to stand on as voters go to the polls
It was a strategy seen in 2004 when President George W. Bush attacked his Democratic opponent John Kerry on his military experience. Kerry's perceived strength quickly became a weakness after a group of veterans and their "swiftboat" attack took down his campaign.
Obama's campaign recently released its "Vampire" ad, which portrays Romney's perceived strength in business as a major flaw to his campaign. It uses the apparent losses at Bain Capital to highlight Romney's inability to create jobs.
But many analysts think Obama's attacks will not work because the Romney campaign has been able to work on his Bain Capital answer throughout the Republican primaries, as opponents attacked him daily about the problems related to Bain. Unlike the "swiftboat" attacks on Kerry, Romney has had months to work out a defense.
Romney has released a video of his own called "A Few of the 23 Million," which shows the struggles of Americans trying to find a job. The video highlights a recent USA Today/Gallup poll that shows 71 percent of adults rate the economy as poor.
×
Related links
Most recent Politics stories