Estimated read time: 2-3 minutes
This archived news story is available only for your personal, non-commercial use. Information in the story may be outdated or superseded by additional information. Reading or replaying the story in its archived form does not constitute a republication of the story.
Alex Cabrero Reporting Fire fighters in Southern California got a reprieve from the Santa Ana winds, but many evacuees still returned to find their homes gone.
Tere Miller said, "It's just a very strange feeling to not have that and be homeless."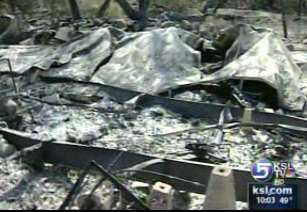 At least 1,600 homes have been destroyed, and the death toll jumped to seven. Border agents found four more bodies in a transient camp in the desert.
Many evacuated Southern California families are going back home tonight, but there are many who don't have a home to go back to.
A.J. and Teri Andrus live near the Mexican border of California but have family in West Jordan and Herriman. They planned to visit Utah this Christmas, but now they aren't sure if they can make it.
There's a saying that laughter is the best medicine. If that's true, A.J. and Teri Andrus are going to need a 24-hour comedy show.
"That was tough. That was tough, you know, and that everything for our family of five is now in the back of my car," Teri said.
They've been spending time with family and friends after their home burned to the ground.
A.J. said, "We haven't been able to go home, to be able to see what's left."
When they do go back home, there won't be much for them to see.
One firefighter said, "The ones that were destroyed were destroyed completely."
When we went to where their home once stood, building inspectors were on site to assess the damage and figure out what happened. In all honesty, there really was nothing to figure out. As horrible as it is though, it's only the second worst thing that's happened to them in the past two months.
"We had a baby girl that passed away in August," A.J. said.
Ten-month-old Bethany died of a heart defect. The fire took what she left behind. "Memories of her, footprints, handprints, that stuff I didn't think to grab, lockets of hair," Teri said.
Doctors knew something was wrong when she was born, so they had the family make a ceramic tile for her and allowed them one word.
A.J. said, "One of the first things that came to my mind was courage that she showed as a baby."
Now it's the courage that young Bethany showed that will get her parents through this.
"That courage that Bethany had is something she showed and that we've had to hold onto," A.J. said.
The Andrus family hopes to get back to their house in the next week so they can pick up the pieces and start again.
×
Most recent Utah stories