Estimated read time: 2-3 minutes
This archived news story is available only for your personal, non-commercial use. Information in the story may be outdated or superseded by additional information. Reading or replaying the story in its archived form does not constitute a republication of the story.
Whit Johnson ReportingFamily and friends are mourning the loss of a Utah soldier killed in Afghanistan.
Staff Sgt. Larry Rougle grew up in the Salt Lake valley. He leaves behind a wife and 3-year-old daughter.
This was Staff Sgt. Rougle's 3rd tour in Afghanistan; he had also been to Iraq twice, for a total of five trips to the war zone. He was a dedicated soldier and a dedicated father. His family says they're heart broken but proud.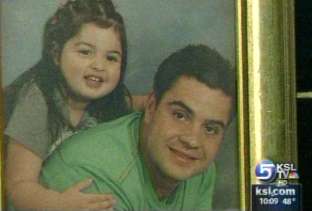 Char Rodriguez, Larry's Aunt said, "Recovery, it's going to be a slow process. I mean extremely slow."
For the family of 25-year-old Staff Sgt. Larry Rougle the news of his death in Afghanistan still hasn't quite set in.
"Total disbelief. How could this happen to one of mine? We were proud of him. We loved him and we were proud of him. We supported whatever decision he made," Rodriguez said.
Larry's decision at the tender age of 17 was to follow in his father's footsteps and join the Army. He became a Ranger and in his final days patrolled the Afghanistan/Pakistan border of the Kunar Province.
Rodriguez said, "Every family that has a soldier out there dreads that knock on the door. And then it comes. It comes before you know it."
That devastating knock came yesterday, when they learned Larry was shot and killed by enemy fire.
"It just can't happen. We've never lost anybody young in our family," Rodriguez said.
Char says perhaps the toughest task has been to explain the loss to Larry's 3-year-old daughter.
"We have to make sure that we keep his memory alive. Make sure that she always remembers what she meant to him," Rodriguez said.
Family members say Larry was a likable, intelligent young man with a love for adventure and a strong desire to protect his country.
His aunt says, "He was an American soldier for everybody, not just for us."
Larry's family is still waiting to learn when his body will arrive in Utah. When they do, they will start to put together his funeral arrangements.
×
Most recent Utah stories