Estimated read time: 5-6 minutes
This archived news story is available only for your personal, non-commercial use. Information in the story may be outdated or superseded by additional information. Reading or replaying the story in its archived form does not constitute a republication of the story.
In its first six months, the Utah Valley University Bass Club has two tournament wins. Out of more than 200 colleges and universities competing across the country, UVU is the only school with two victories this year.
Club advisor Clinton Martinez said at the start of the year the club set a goal to have one top-five finish. Winning two of four tournaments this year is especially remarkable because this is the first time any Utah school has fielded a competitive collegiate fishing team.
In September 2011, Martinez and his 10-year-old son, CJ, were watching a collegiate bass fishing tournament on television when CJ remarked that he would like to fish competitively in college. Martinez told his son that meant he must attend a school out of state because no Utah colleges sponsored bass fishing teams.
When CJ asked why, Martinez said he wasn't sure of the reason, so he started checking into what it would take to have a bass club at UVU. Martinez is an academic advisor at UVU. Two months later, Martinez was the UVU Bass Club advisor. Today the club has about two dozen members.
Weston Brierley, a freshman at UVU majoring in business administration, is the club president. Growing up in Orem, Brierley said that while he loved to fish, he had never competed in a fishing tournament until January.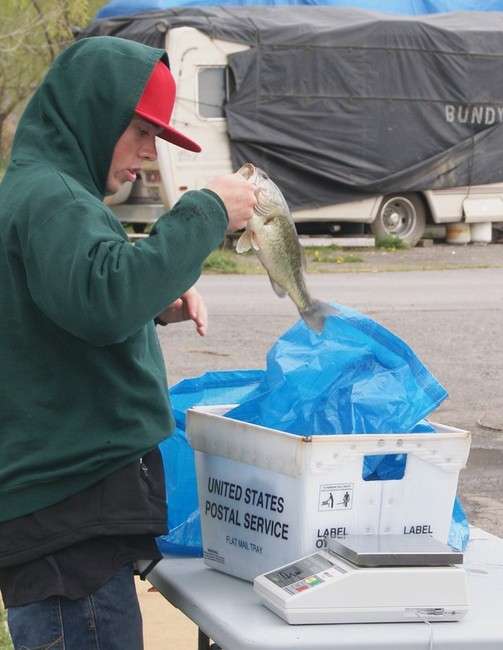 Many Utah residents might not be aware that in other parts of the country, bass fishing engenders a cult-like following among anglers. Some fishermen earn a living by competing in bass tournaments, and by 2007 the top contests offered more than $1 million in prize money to the winner.
Brierley said that after two tournament wins, other schools might view UVU as the team to beat. That wasn't the case initially. Brierley said that at the first tournament he overheard other competitors refer to the UVU squad as amateurs.
UVU's victories came at FLW events at Lake Havasu in Arizona on Feb. 25 and at Clear Lake in California on April 27. FLW Outdoors is the sanctioning organization for a series of fishing tours. Those wins mean two UVU teams are qualified to compete in the western regional championship in September.
The winning team at Clear Lake was initially not even slated to compete. The tournament has slots for 40 teams and all the spaces were filled. But UVU brought an additional standby team in case one of the other registered teams failed to show. Martinez said his standby team members learned just moments before the start of the tournament that they would be allowed to fish.
Aaron Warner and Zachari Taylor were the wait-listed team members. "Once we found out that we were in the tournament, our only goal was to catch five fish," Taylor said. The combined weight of their five fish was 19 pounds and 10 ounces. The five fish weighed by the second place team totaled 18 pounds and six ounces.
The UVU competitors beat teams from Colorado State University, Arizona State University, Humboldt State University, several California colleges, Oregon and Oregon State, the University of Nevada and others. The two other UVU teams competing finished 19th and 24th out of 40.
Martinez said the initial support for his club has been overwhelming. University clubs provide their own funding through fundraisers, donations, sponsorships and tournament prize money. Money goes to defer travel costs for tournament participants and other club expenses. Martinez said he hopes they can eventually raise enough money to set up an endowment to provide ongoing funding for the club.
One of those fundraisers was a bass tournament on Utah Lake in early April. In spite of less-than-ideal conditions, most of the competing anglers caught fish. The top two bass were both over four pounds.
After a final club fishing event on May 5 at Deer Creek Reservoir, the students will take a break for the summer. But Brierley said that most members will still get plenty of fishing time together because it is what they like to do.
Brierley said other interested UVU students who might want to join the club are welcome. Additional information can be found at the UVU Bass Fishing Facebook page or at the club's web site: uvubass.wordpress.com.
About competitive collegiate fishing
Although there are multiple sponsoring organizations for competitive collegiate fishing, Martinez said UVU elected to compete in the FLW tour because of proximity to its western conference events.
The organization's initials stand for Forrest L. Wood, developer of the Ranger bass boat and founder of the Ranger boat company.
FLW college fishing events are free to enter, and FLW provides boats and drivers for each competing team. The FLW college tour has five regional conferences and it holds four qualifying events in each conference. The first-place team in each event wins $5,000. The top five teams from each qualifying tournament advance to one of five televised three-day regional championships, where the first-place team wins a Ranger bass boat.
The top five teams from each region then advance to the national championship, where the first-place team wins $25,000 for its school and $50,000 cash plus a Ranger bass boat for its fishing club.
Flint Stephens has a master's degree in communications from Brigham Young University. He is author of "Mormon Parenting Secrets: Time-Tested Methods for Raising Exceptional Children." His blog is www.mormonparentingsecrets.com.
×
Photos
Most recent Sports stories