Estimated read time: 2-3 minutes
This archived news story is available only for your personal, non-commercial use. Information in the story may be outdated or superseded by additional information. Reading or replaying the story in its archived form does not constitute a republication of the story.
Lori Prichard ReportingTickets will go on sale again Tuesday at 10 a.m. for Saturday's once-sold-out Hannah Montana show in Utah. About 1,600 tickets are up for grabs. But will the seats really go to the fans?
Shayne Christensen and Tori Wilson are looking for tickets. They told us, "They sold out in two minutes and they're like $4,000."
OK, so they're not $4,000 yet.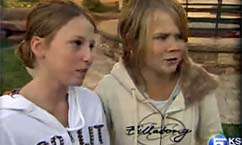 Whatever the astronomical asking price, these 12-year-old girls know their parents won't be paying for them to see Hannah Montana.
"Utah isn't the richest place, so no," they say. "So why did it sell out in two minutes?" they ask. "That's a good point."
That's the same question lots of people around the country are asking. And some states are taking action. Missouri Attorney General Jay Nixon is the first to file legal action against brokers who are allegedly snapping up the singer's tickets.
John Fougere of the Missouri Attorney General's Office said, "The defendant's scalping of tickets violated state consumer protection laws by selling of tickets far and above face value, which is in violation of ordinances against scalping."
However, frustrated Utah parents are out of luck. This state doesn't have safeguards in place that ban scalping.
Paul Murphy of the Utah Attorney General's Office said, "It's not illegal to resell tickets in Utah. We would have to have some element of fraud for us to get involved."
Unfortunately for Utah parents, you're on your own. There are still more than 1,000 tickets available online. Some are going for as low as $80, others just under $1,000.
We're told one ticket broker Web site has more than 1,000 seats available for Friday's show; another Web site advertises more than 570.
So if you either waited in line or online to get tickets and couldn't but are surprised to see so many seats, Ticketmaster's vice president, Joe Freeman, explains how it happened.
"The issue is that folks have been trying either through fan clubs or through online sales to cut through the line inappropriately," he said.
You can try again Tuesday at 10 a.m. when 1,600 extra tickets go on sale. But again, don't hold your breath.
×
Related links
Most recent Utah stories