Estimated read time: 2-3 minutes
This archived news story is available only for your personal, non-commercial use. Information in the story may be outdated or superseded by additional information. Reading or replaying the story in its archived form does not constitute a republication of the story.
SALT LAKE CITY — University of Utah students won $100,000 last Friday for their work with quantum dots — manmade nanocrystals that could potentially have a huge impact on consumer products such as TVs and cellphones.
Their use could increase the amount of energy captured by solar panels and decrease the energy used for cellphone and TV displays, vastly improving the products' functioning, as well as allowing the electronic devices to display a broader range of color.
"Imagine what that would do for your iPhone," said Thad Kelling, a spokesman for Technology Venture Development at the University of Utah. "You'll have an iPhone display with brighter colors, and it will consume less power, so the battery will last longer."
The dots are manufactured in different sizes: smaller dots produce light on the blue end of the color spectrum; larger dots, on the red end.
The biggest concern right now for quantum dot technology is the cost of manufacturing the dots and the waste that is left behind. A more cost-effective process would make the idea of using the dots in consumer products more practical, according to Kelling.
The U. of U. group, made up of Ryan Tucker, Chris Lewis and Ameya Chaudhari, won first place April 20 at the regional CU Cleantech New Venture Challenge — sponsored by the U.S. Department of Energy — in Boulder, Colo. and will advance to the national championship in June. Their strength was in the clean energy applications of the new manufacturing process, developed by researchers in the U's chemistry department.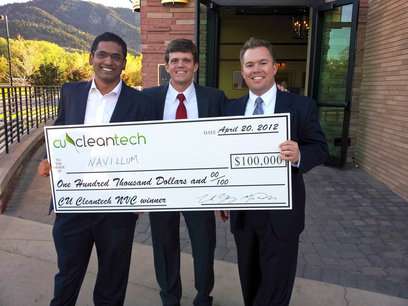 The group of MBA students developed a way to commercialize the new manufacturing process for the dots, through a startup company called Navillum Nanotechnologies. Their business plan and the new technology also contributed to the win.
"It was the attractiveness of the technology and the growth potential," competition manager Steve Herschleb said. "There's a little bit of risk; the market hasn't fully embraced the technology. But the applications, from a scientific basis, are very promising, and the market is expected to be enormous in the future."
In addition to higher-quality, energy-efficient electronic devices, the new manufacturing process for the dots could lead to vast improvements in solar panel cost and efficiency, making the panels more friendly for consumer use.
The team will use the contest winnings to refine the new manufacturing process and to try to implement it on a larger scale.
Quantum dots were first discovered in the 1980s, and three decades later, scientists are still unclear on how to tap into their potential. The dots, tiny semiconductors that emit photons when excited, are small enough that four million of them would fit across the diameter of a penny.
×
Related links
Related stories
Most recent Utah stories