Estimated read time: 3-4 minutes
This archived news story is available only for your personal, non-commercial use. Information in the story may be outdated or superseded by additional information. Reading or replaying the story in its archived form does not constitute a republication of the story.
OGDEN — A group calling itself "Keep the Peace" blames police tactics used in the war on drugs for the home raid and exchange of gunfire Jan. 4 that led to the death of Ogden police officer Jared Francom.
A group of nearly 100 people held a press conference at the Weber County Library Thursday night, calling on the Ogden City Council to withdraw from the Weber-Morgan Narcotics Strike Force, and called for the electoral defeat of Weber County Attorney Dee Smith, who is running for Utah attorney general as a Democrat.
The group is also raising funds to help defend Matthew David Stewart, who is charged with capital murder in the shooting death of Francom. He is also charged with shooting and wounding five other officers as the strike force attempted to serve a drug-related search warrant at Stewart's home.
---
Matthew is now facing the death penalty for defending himself in his home.
–Jesse Fruhwirth, Keeping the Peace
---
Group organizer Jesse Fruhwirth insists Stewart had never been known to be a violent person.
"Matthew is now facing the death penalty for defending himself in his home," he said.
Members of the group said they don't blame individual officers for their roles in the raid and exchange of gunfire.
"We feel terrible for the death of officer Jared Francom, the injuries and trauma of the other officers, as well as the injuries to Matthew," said Liz Martinez Hoffman, a Stewart family friend. "But it's clear to any thinking person that the violent war on drugs caused this terrible situation, not Matthew himself. He is also a victim of this situation."
Stewart's father, Michael, said he is a supporter of law enforcement, who do "a difficult and thankless job," but called the task force's tactics "violent and misguided." The incident was unfortunate and avoidable, he said.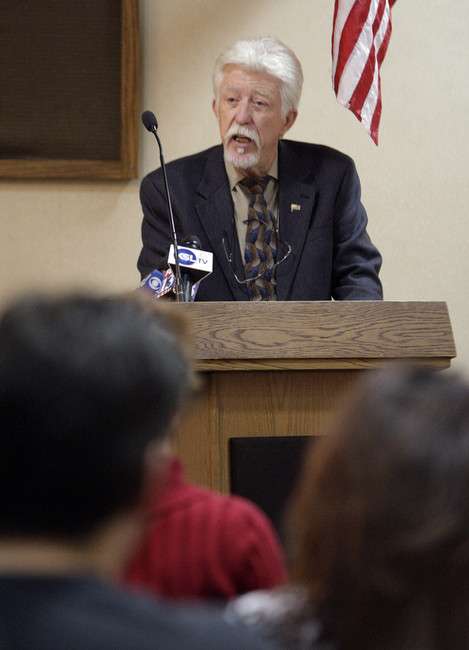 "There could have been a better way. There has to be a better way," Michael Stewart said.
Matthew Stewart's sister-in-law, Erna Stewart, said she believes military-like operations used in the war on drugs "breeds a culture of violence and aggression within our law enforcement agencies."
Tom Hayes told those at the rally that he saw the Jan. 4 police operation from his house through a parking lot. He said that as officers put on gear in anticipation of the operation, they "gave high fives ... like before a football game — let's go get 'em-type. It was disgusting. It's disgusting."
Hayes also indicated that he doesn't blame the police. "We definitely need officers and they do a fine job," he said, adding that he's noticed a reduction in crime in Ogden in the past five years.
Police say Stewart, armed with a Beretta .9mm handgun, was relentless in firing on officers that night. He continued to shoot officers after they were down, firing on officers as they tried to get their wounded brothers out of the house, and then following the officers even after they had left the house, shooting at them from his front door into the street, a police affidavit states. Evidence indicating he was growing marijuana in the basement was also recovered from the Ogden home.
Salvador Tavale, who said he lived next door to Matthew Stewart for 11 years, described him as a nice, easygoing neighbor. He said his neighbor did not have frequent visitors as might be expected if he had been selling drugs.
"I don't know how the police got the idea he was selling drugs," Tavale said.
An emotional Gabriel Stewart, the suspect's brother, asked: "I want to know what the police were protecting you all from."
Calling the county attorney "part of an old system of violence," Hoffman called on Smith to conduct a balanced review of the incident, "instead of trying to blame it all on Matt."
Contributing: Mike Anderson
Email:lbrubaker@ksl.com
×
Photos
Related stories
Most recent Utah stories