Estimated read time: 3-4 minutes
This archived news story is available only for your personal, non-commercial use. Information in the story may be outdated or superseded by additional information. Reading or replaying the story in its archived form does not constitute a republication of the story.
SOUTH JORDAN — Gov. Gary Herbert took some sharp jabs from his fellow Republican challengers at a gubernatorial debate for party delegates Wednesday, but struck back sparingly.
"I'm doing a good impression of a pin cushion here," Herbert said at one point during the lunchtime debate sponsored by the Republican Women of Utah Valley.
Five Republicans are trying to stop the governor from being the GOP nominee: David Kirkham, Morgan Philpot, Ken Sumsion, William Skokos and Lane Ronnow.
Philpot was especially tough on the governor, suggesting Herbert's millions of dollars in campaign contributions were why he was the only one of the candidates in a recent poll who said Utah's quality of life had improved over the past five years.
"Of course it's better for him," said Philpot, a former state lawmaker who nearly beat the state's only Democrat in Congress, Rep. Jim Matheson, in the 2010 2nd District race.
Herbert did not directly respond to Philpot, instead talking about the state's national rankings as the country's best-managed and telling the audience that by every measure, Utah is better off now.
The governor did say several times that the state's budget increased while Philpot was in the Legislature but stayed relatively flat since he took over the office in 2009 from former Gov. Jon Huntsman Jr.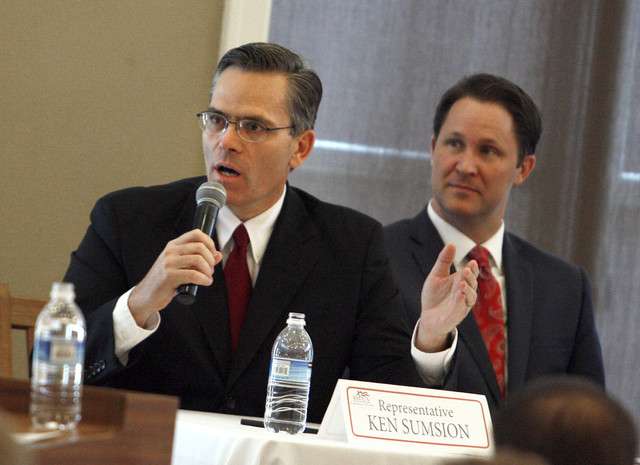 And later in the debate, Herbert said it was "a little bit hypocritical" to imply that there has been "this big change in government when in fact, we have been pretty darn prudent."
He also reacted when Sumsion, a state representative from American Fork, noted that the 2012 Legislature approved millions for an autism pilot program.
"We can't afford to cover every issue in life," Sumsion said, warning also that Medicaid is going to bankrupt the state.
The governor retorted that if Sumsion didn't like the laws being passed by lawmakers, he should be running for the Utah House. Herbert said the state may not be "in the promised land" when it comes to controlling health care costs, but it is heading in the right direction.
The role of the federal government in health care, education, public lands, energy development and other issues was a topic returned to again and again.
After several candidates said they would battle Washington in court to regain control of federal lands, Skokos, an energy developer, said he would take back the lands first and let the federal government sue Utah.
---
I'm not a fan of the 'Occupy Wall Street' method to get our lands back.
–David Kirkham
---
Kirkham, a custom-car manufacturer and local tea party leader, offered what he called "a cautionary note" about allowing a governor to take back land because such a tactic could be used against private landowners.
"I'm not a fan of the 'Occupy Wall Street' method to get our lands back," Kirkham said, suggesting instead the state's leaders apply political pressure on Washington while rallying support through town-hall meetings.
After the 1 ½-hour long debate, GOP state delegate Kathleen West of Lindon said she still supported Philpot.
But West said she wished the candidates had gone after the governor even harder.
"I'd like to hear more of it, more about exactly why we shouldn't elect Herbert again," she said. "They don't have to be mean and they weren't mean."
GOP delegates are set to choose the gubernatorial nominee at the April 21 state party convention. But if no candidate wins at least 60 percent of the vote at convention, the delegates' top two choices will be on the June primary ballot.
Email:lroche@ksl.com
×
Photos
Related stories
Most recent Utah stories