Estimated read time: 3-4 minutes
This archived news story is available only for your personal, non-commercial use. Information in the story may be outdated or superseded by additional information. Reading or replaying the story in its archived form does not constitute a republication of the story.
Ed Yeates ReportingAll of the schools in Bedford County, Va., are closed today after one student died of a drug-resistant staph infection. Twenty-one schools in all were shut down for cleaning following the death of Ashton Bonds.
Bonds was a senior at Staunton River High School near Roanoke. He died Monday after being diagnosed with an antibiotic-resistant staph infection called MRSA.
Students and parents say there have been at least three cases of MRSA at Staunton.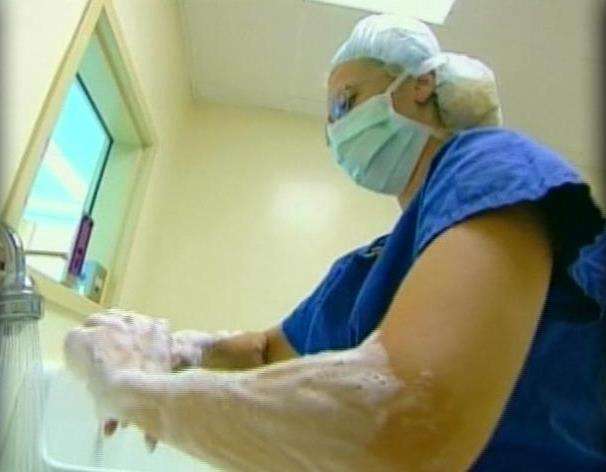 Meanwhile, in a published study this week, the CDC projects drug-resistant organisms will kill approximately 90,000 people per year. If so, that exceeds the yearly deaths of AIDS and breast cancer combined. But a nationally recognized infectious disease specialist here in Utah says there's no need to panic.
Matt Murdoch remembers well what happened two years ago after he got a staph infection from a simple friction burn on his elbow. Only days later he was fighting for his life. He says, "It occurred on a Saturday, and by Wednesday, I was in the hospital, completely incoherent, not realizing what was going on around me."
He heard about the death of the 17-year-old in Virginia. He said, "I think about it all the time. It's just one of those things that every day I think about what could have happened. I could have been missing an arm or my kids could have not had a father. So it hits home."
Staph organisms have been around forever. But there are tougher ones now and more of them. Dr. Andrew Pavia, an infectious disease expert, says, "Not only that, it's changed flavors. We use to only see drug-resistant staph in the hospital. And in the past six years, we've started to see drug-resistant staph or MRSA in the community."
Dr. Pavia says community-based staph is more invasive and more life-threatening.
Because of a skin rash outbreak among Utah wrestlers a few years ago, mats are now routinely disinfected after each individual event. Hospitals are more alert, even when a patient has no wound or abrasion.
"The guidelines are stringent. For example, at Primary Children's Medical Center, if a patient was admitted to a room and diagnosed with a multiple drug-resistant organism, a warning sign would immediately be posted outside.
Health care workers wear gowns, gloves, and in some cases masks. Everybody washes their hands before and after entering the room. The hospital has been practicing this for several years. But Dr. Pavio says don't panic. He says, "We can't sterilize the world, and we are very well adapted for surviving cuts and scrapes and preventing infections."
So how can you protect yourself? If you cut yourself, wash it and cover it. Don't share wet towels while someone has an infection, and wash your hands. Just practice good common sense, perhaps even more so now.
Within the past two weeks Congress has proposed a bill that will support more research and data collection on staph infections throughout the country.
It also would provide a financial incentive for the development of new drugs.
×
Most recent Utah stories