Estimated read time: 2-3 minutes
This archived news story is available only for your personal, non-commercial use. Information in the story may be outdated or superseded by additional information. Reading or replaying the story in its archived form does not constitute a republication of the story.
Jed Boal Reporting Today, the state took a big step toward transportation solutions for the fastest-growing areas of the Wasatch Front. The Department of Transportation released the environmental study for freeway and transit options running from I-80 to Lehi.
The Mountain View Corridor is a proposed highway and transit corridor in western Salt Lake County and northwestern Utah County. It's about 40 miles long.
In the next three decades the state expects the population to more than double and traffic snarls to intensify on major roads. "We need some transportation solutions, and this document is the first step to provide those solutions," said Teri Newell, Mountain View Corridor project manager.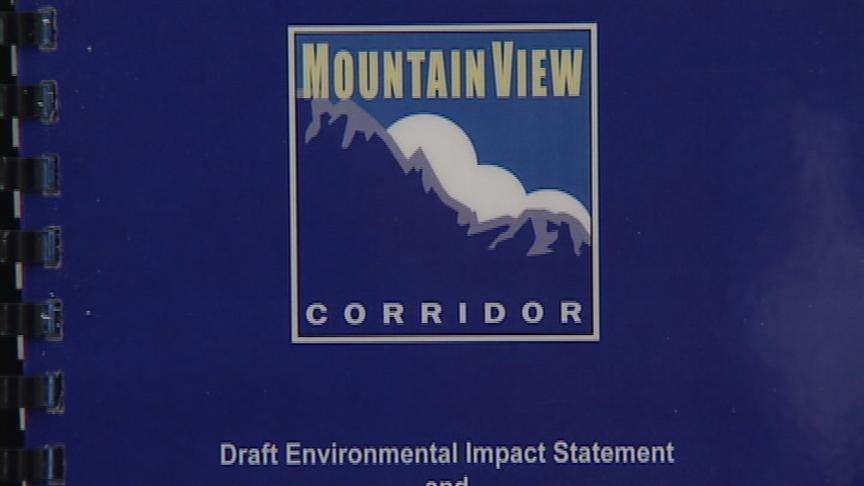 The Draft Environmental Impact Statement for the Mountain View Corridor took five years. It contains five volumes, 34 chapters and 2,200 pages. It weighs 18 pounds.
The statement offers options for roads and transit crossing some sensitive environmental areas, historical areas and neighborhoods.
The Sierra Club, which held up construction of the Legacy Parkway, wants to see more emphasis on mass transit. "It's several decades out of date. It's a Los Angeles-style freeway that spreads sprawl, development and more traffic," regional representative Marc Heileson explained.
The city of Lehi will battle UDOT's proposed freeway route that would connect I-15 to the western corridor. A stretch of 2100 North is undeveloped now, and Lehi leaders and citizens designed their own alternative. "We've created a plan that is better than what UDOT offers," Dave Klock of Citizens Organized for Smarter Transportation said.
Under the UDOT proposal, the freeway could be as many as five times as wide as a regular street in some places, and in other places, a towering eyesore.
"Our plan requires 85 percent fewer home relocations," Klock said. "Our plan costs 33 percent less than UDOT's."
The state disputes that but will look at the Lehi alternative. "Some of our initial concerns in looking at it are whether it's too far north to solve our problems east-west; for not only Lehi, but Saratoga and Eagle Mountain," Newell explained.
This begins the public comment period, which is scheduled to end just before Christmas. There's a lot of discussion to come on the specific routes and a lot of detail you can view online. To learn more about the project, click the related link.
×
Related links
Most recent Utah stories