Estimated read time: 2-3 minutes
This archived news story is available only for your personal, non-commercial use. Information in the story may be outdated or superseded by additional information. Reading or replaying the story in its archived form does not constitute a republication of the story.
Whit Johnson Reporting
AP Photo/Al BehrmanProcter & Gamble makes some of the best-known products in America and throughout the world, and now Procter & Gamble is coming to Utah! This is a big get for Utah, and Gov. Huntsman says he looks forward to officially welcoming "one of America's top corporate citizens to our state."
Procter & Gamble will build a plant to manufacture paper products in Box Elder County. It's a $300 million investment in Utah and comes a week after the state approved millions of dollars in tax breaks.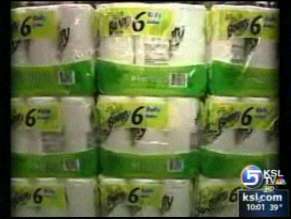 Overall, reaction has been very positive. The manufacturing facility is supposed to be up and running by 2010 and will provide hundreds of jobs. It'll be an economic engine that people in Box Elder County are welcoming with open arms.
Bill Price says, "I think that Box Elder County would be crazy not to welcome this company."
Mindy Jensen said, "There's not tons of places to work unless you go down to Salt Lake, so I think it would be a good thing."
The Procter & Gamble manufacturing facility will produce well-known paper products under the brand names Bounty, Charmin and Puffs.
Jason Jensen said, "Procter & Gamble coming to Brigham City area, I think it's great. It'll be great for the economy."
Proctor & Gamble is based out of Cincinnati and operates facilities around the world, employing more than 138,000 people.
Gov. Jon Huntsman, Jr. and other state officials are already expressing excitement for the company's arrival.
Jason Perry, executive director for the Governor's Office of Economic Development, said, "This is a worldwide company, one of the great names in the world. This really shows that we as a state have really arrived, that we are mature in the cycle, we are very credible, and this is a place where people should feel safe to invest. Getting a company to come here shows that our economy is hot!"
Proctor and Gamble estimates the facility will employ about 300 people with jobs that are expected to pay more than 200-percent of the Box Elder County median. More jobs and higher pay, it's something people we spoke to found tough to argue with.
Price said, "Well there's a multiplying effect to it. In other words, if a person gets a job there they will come to Brigham City and spend it here."
The final paperwork and purchase of the land is still being completed, but state officials say the plan is in the works and construction is set to begin in early 2008. To give you some perspective on Procter & Gamble's place in the corporate world, it is number 24 overall in Fortune 500's list of the world's top corporations. It is number 1 though in Fortune 500's list of companies that manufacture household and personal products.
×
Related links
Most recent Utah stories