Estimated read time: 6-7 minutes
This archived news story is available only for your personal, non-commercial use. Information in the story may be outdated or superseded by additional information. Reading or replaying the story in its archived form does not constitute a republication of the story.
SALT LAKE CITY — Keith B. McMullin was introduced Thursday as the new CEO of Deseret Management Corp., replacing Mark H. Willes, who is retiring.
McMullin was released last weekend as second counselor in the Presiding Bishopric of The Church of Jesus Christ of Latter-day Saints, ending his 17-year tenure as a church general authority. He moves into his new post after being a member of the DMC board of directors for the past 15 years. McMullin was the director of the church's Welfare Services Department for 10 years and earlier was an investment and financial analyst with Ford Motor Company.
McMullin said the companies he now oversees have weathered wrenching changes, and are now well-positioned to continue to adapt to a new and innovative world. "With technology today, so many wonderful things can be done, and there are people around the world that are looking for the very things these companies are delivering."
Deseret Management Corp. is the for-profit arm of the LDS Church and includes media-related companies Deseret Book; the Deseret News; KSL-TV, KSL Newsradio and other Bonneville International radio stations; and its newest entity, Deseret Digital Media. DMC also includes Temple Square Hospitality and Beneficial Financial Group.
The DMC board appointed McMullin to replace outgoing CEO Willes in a change McMullin said he was not expecting.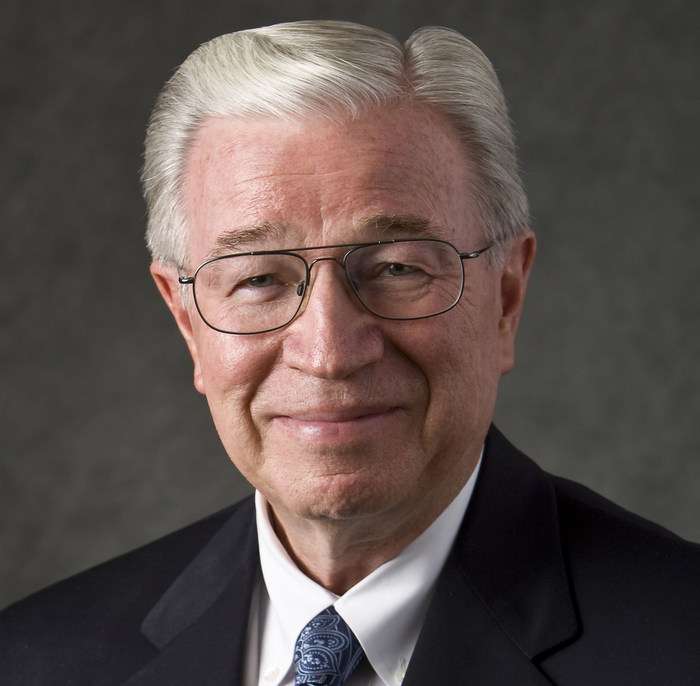 "I think Mark Willes has done an outstanding job, and under the most difficult of circumstances, and as a result has positioned these wonderful resources in a way in which the future is bright," McMullin said.
McMullin said he learned of the new appointment only shortly before the release from his assignment in the Presiding Bishopric. "Everyone wondered 'What are you going to do now that you're retired?' and I would respond, 'Well, in the next few hours, I will relax.'"
He said he quickly put his attention to the transition and the state of the companies he now manages. He and Willes worked closely to shape the corporation's recent business strategy.
"He knows the strategies well," Willes said of McMullin. "He's approved the strategies, and endorses the strategies, and it's just full speed ahead."
A particularly noticeable disruption to the way the DMC media companies had done business was the September 2010 announcement the Deseret News would reduce the size of its staff but become part of a larger combined media operation by creating a News Division with KSL. DMC also sold 17 Bonneville International radio stations in January 2011.
Decreasing advertising revenues have affected media outlets across the board with online media delivery and other economic factors cutting into traditional revenue streams.
The Deseret News has reported significant growth in both its print and online audiences since the 2010 cuts, reaching farther into Utah, across the country and internationally.
"There have been some rather wrenching changes that have gone forth over the last number of years," McMullin said. He sees the season of difficult economic cuts as being over, but does not see a status quo on the horizon.
"I think the wrenching part of it has passed," he said. "Not only have we been through it but positioned ourselves right. Our people have been through it and weathered it in a wonderful way."
McMullin now sees a core of his work as "fine tuning and looking on the horizons and seeing how we can deliver on the types of things we've discussed."
Leaders within the media companies responded to Thursday's changes.
"He has an expertise and passion for both building our local community and at the same time expanding the reach of humanitarian efforts around the world," said Christopher Lee, executive vice president and publisher of the Deseret News. "DMC has the very same objectives of strong coverage of our community while reaching out beyond our borders."
DMC has promoted an objective of developing and maintaining "trusted voices of light and knowledge," which McMullin said will apply to both its regional audience surrounding Utah and to a global marketplace.
"That's not simply an idle statement or a slogan. That is bedrock in terms of where we're going," McMullin said. "These entities have been a resource, a trusted voice, in this region of the world."
Tanya Vea, KSL's executive vice president of cross-platform development, said: "We are lucky beyond measure to have had Mark Willes here and I will forever be grateful for the things I learned from him. I am excited to build on the legacy Mark leaves at KSL and the Deseret News and look forward to working with Keith McMullin."
She said, "He has a wonderful reputation and, as a longtime DMC board member, Keith understands our businesses well. We have a great future ahead of us in these companies and are fortunate to have owners who care about our communities and the quality of our work as much as they do."
The resource shift into the digital media environment has also created an opportunity for interactivity while vastly extending the companies' audience.
"With technology today, so many wonderful things can be done. There are people around the world that are looking for the very things these companies are delivering," he said.
For journalists producing news content that continues to be delivered in new ways, he sees their work as "capturing truth, insight and perspective that bless people's lives and enhance their liberties."
The interactive nature of electronic media also gives readers an ability to offer instant feedback. "We can be more open and responsive to those needs" and channel journalistic resources for the greater benefit of readers, he said.
McMullin said getting better acquainted with the people he works with is the first thing on his to-do list. "I have learned over the years that problems and solutions have come through the door every day on two feet." He said the staff members "not only see the problems but they have the solutions."
His second priority is making sure additional innovations "launch with confidence, because we have done our homework."
One change he is getting used to is the transition from being known as "Bishop McMullin."
"I like 'Keith,'" he said when asked how the staff should address him.
Willes came to DMC from retirement and said Thursday's change allows him to go back. His extensive leadership history includes his work as president and vice chairman of the board of directors of General Mills. He spent 15 years as CEO of Times Mirror Company, where he also served as publisher of the Los Angeles Times during most of that time.
"We've made a lot of changes. Thank heavens our people have been so supportive and encouraging," he said of his time at the helm of DMC. "That's just going to have to continue."
Willes said the personnel cuts over the past few years have been his biggest challenge. "It's also hard on those who stay because they see their friends leave, and they see the challenges. In many respects that's the biggest challenge because it's the people that stay that you're counting on to continue to make these changes and continue to innovate and continue to be creative."
×
Photos
Related links
Related stories