Estimated read time: 4-5 minutes
This archived news story is available only for your personal, non-commercial use. Information in the story may be outdated or superseded by additional information. Reading or replaying the story in its archived form does not constitute a republication of the story.
SALT LAKE CITY — Promoting the image of all-electric cars is the objective of an around-the-world tour that made a stop in Salt Lake City on Tuesday.
The Electric Odyssey tour is billing itself as the first such tour in a standard electric car.
Xavier Degon and Antonin Guy, the Electric Odyssey crew, launched their globe-circling journey Feb. 11 from Strasbourg, France, and project their tour will cross through 17 countries with an overall electricity "fuel" cost of $320.
Cars with electricity as at least part of their power source are somewhere in a broad migration from quirky toward mainstream, with Toyota reporting on Tuesday that its Prius hybrid saw a 54 percent sales surge during March.
The Chevrolet Volt inches farther from the hybrid model because its gasoline engine only recharges the batteries when they run dead, unlike hybrids that routinely flip between gas and electric power. Just-auto.com lists 35 car manufacturers working on electrics.
All-electric cars, or "pluggers" because they must be plugged into a power source to be recharged, are farther behind the popularity curve. Nissan currently has bragging rights to the best-selling all-electric car, the Leaf. Nissan CEO Carlos Ghosn characterized recent sales of the Leaf as "modest" in a Tuesday Wall Street Journal story, though he predicted electrics would account for 10 percent of global vehicle sales by 2020.
Degon and Guy are driving an all-electric Citroen C-Zero. Citroen is one of the tour's nine French electric car-related sponsors. While Citroens are not exported to the United States, the plugger points out the tour's need to plan its route along a path where it can stop and recharge every 60 miles. "It's hard to be able to find an outlet to charge the car," Degon said.
In downtown Salt Lake, the tour car was plugged into an outlet used for Christmas lights at the base of a tree along the sidewalk outside the Salt Palace Convention Center.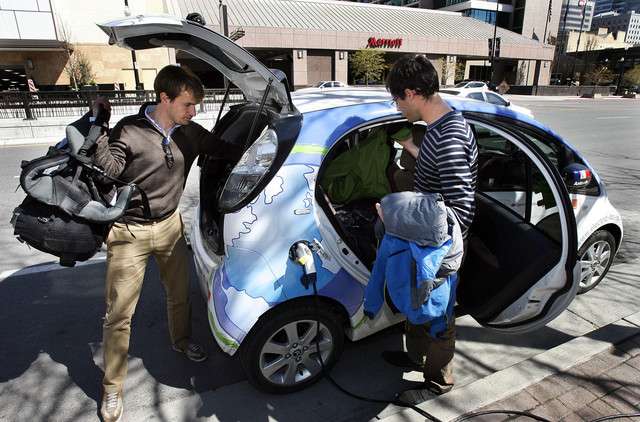 While the Citroen can be recharged using a standard wall outlet — which takes six hours — beefier recharging stations can recharge a plugger in an hour. Therein lies a chicken-and-egg dilemma over whether consumer interest in pluggers will lead to greater availability of publicly accessible charging stations, or whether more public investment in charging stations will draw along an interest in electrics.
"We are convinced that the electric car will be tomorrow's transportation," said Degon.
"This adventure will enable us to promote the image of electric cars to the public at large and to reassure them on its use," he said. "If we can do a world tour in a standard electric car, you can use it for your daily rides."
Not so sure all-electrics have such a broad future is Perry Carter, a recently-retired associate professor at BYU, who led the development team of BYU's "Electric Blue" racer that was clocked in October at a record-setting 175 mph at the Bonneville Salt Flats.
Batteries are "environmentally dirty to produce" and expensive to replace. The materials used in newer-technology rechargeable batteries, particularly lithium, are of limited availability and create an additional ecological challenge once they wear out.
Facts about the electric car and ttour
Maximum speed is 80 mph. Going about 40 mpg saves on electricity
Needs a charge every 60 miles
Tour will cover 15,500 miles
Will spend only $320 on electricity
Covers 17 countries
Lasts eight months
"The issue is kind of complicated," Carter said.
Driving ranges of generally 100 miles or less and comparatively lengthy recharging times limit applications for an electric car. "There is a niche as a second commuter vehicle," Carter said.
A bigger question is whether the research and development money being spent on electrics — both from government funds and the car companies under mandates to produce more fuel-efficient cars — would be better spent elsewhere.
"Hydrogen is certainly plentiful," Carter said, and limited-production uses of hydrogen as a fuel for intern-combustion engines have been around for 30 years. "Nobody seems to be working on it, and I don't know why," he said. "I think there is just something glamorous about batteries."
Degon agrees cleaner electric-generating sources are needed to improve a battery-operated car's environmental rating. "We need to work on how we produce electricity. If you use an electric car in China, it's very dirty."
The Electric Odyssey tour is crossing the United States from east to west and is projected to travel more than 15,000 miles — far less than the circumference of the earth, but then the car catches a boat to cross both the Atlantic and Pacific oceans.
The eight-month tour is expected to take 200 days on the road plus the ocean crossings.
In Salt Lake City, Visit Salt Lake is hosting the tour's fuel stop as a promotional tool for environmentally sustainable conventions at the Salt Palace, where a 198,000 square-foot solar panel array will generate about 17 percent of the convention center's power once completed later this spring.
Email:sfidel@ksl.com
×
Photos
Related links
Related stories
Most recent Utah stories