Estimated read time: 2-3 minutes
This archived news story is available only for your personal, non-commercial use. Information in the story may be outdated or superseded by additional information. Reading or replaying the story in its archived form does not constitute a republication of the story.
Lori Prichard Reporting Let's face it: Americans are pretty much pet people.
Collectively, we spend more than $35 billion making our pets fluffy, comfy and feeding them full of treats. Ninety-four percent of pet owners say their furry friends make them smile.
But let's turn the tables. Is your pet happy? Do you make them smile, so to speak? We know one woman who says she can help you find out.
In a pooch park the animals run, jump, and, of course, bark. Their owners have a great time. But do the dogs?
Patty Rayman seems to think so. This self-proclaimed pet psychic says she knows exactly what these dogs are thinking.
"Animals think in pictures. They don't think in words. They can understand our pictures and they can also understand emotion. If you can put the pictures and the emotion together you can communicate with them," she said.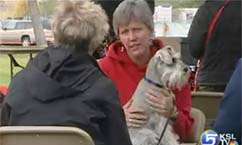 Take Sherman, for instance. His owner say he's a bit self-centered and doesn't play well with others. But he has a bigger problem.
"The thing that really bothers me, he has absolutely no conscience at all," his owner said.
Patty Rayman said, "Oh Sherman, that's a tough one."
Sherman's owner explained, "If there's a dog across the street, he will go chase it."
Rayman asks Sherman, "Do you know what cars are?"
If Sherman didn't know what cars were before, Patty says he does now.
"When I'm telling him not to go into the street, I'm showing him what happens if a car hits him," she said.
Sherman's owner asks, "And he understands that? How does he understand that?"
"They are really good at understanding visual images," Rayman answered.
Patty says she's been communicating with man's four-legged friend for the past 10 years.
"I actually started doing this at parties for friends, and they thought that was really cool. Then their friends started calling me, and their friends started calling me, and it became a business," Rayman said.
It's a business that's a breed of its own.
Rayman also says she's really good with animals who've been adopted or abandoned. She says she can help explain their history as well as their hang-ups.
Patty Rayman will be at Yappy Hour on October 19. It's an event to benefit No More Homeless Pets. The event runs from 6:30 p.m. until 10 p.m. at 136 Pierpont Place in Salt Lake City.
For more information, you can contact No More Homeless Pets at 801-364-0370 ext 10 or online at www.utahpets.org.
×
Related links
Most recent Utah stories