Estimated read time: 5-6 minutes
This archived news story is available only for your personal, non-commercial use. Information in the story may be outdated or superseded by additional information. Reading or replaying the story in its archived form does not constitute a republication of the story.
CENTRAL, Washington County — Police Friday said they believe Landon S. Jorgensen killed his live-in girlfriend and her 5-year-old daughter before turning the gun on himself.
The three were found dead Thursday in a double murder- suicide in the rural southern Utah town of Central.
Friday, Washington County Sheriff's Lt. Rob Tersigni said a preliminary investigation showed that Jorgensen, 24, shot and killed 25-year-old Adria Jordan Parker and her daughter, Eliza Kate Parker, before shooting and killing himself.
Jorgansen apparently had recently moved into the home with Parker. The bed of his pickup truck parked outside the house was filled with his possessions, leading investigators to speculate that he may have been moving out.
One neighbor said he often heard screaming and yelling coming from the house at all hours, but police had never been called.
"We've never had any incidents at that home, so we haven't had any calls or any domestic violence situations," Tersigni said. "So basically, this is our first time responding there."
The sheriff's office finished going through the house at 176 S. Valley View Drive in Central and released the crime scene about 6 p.m. Thursday.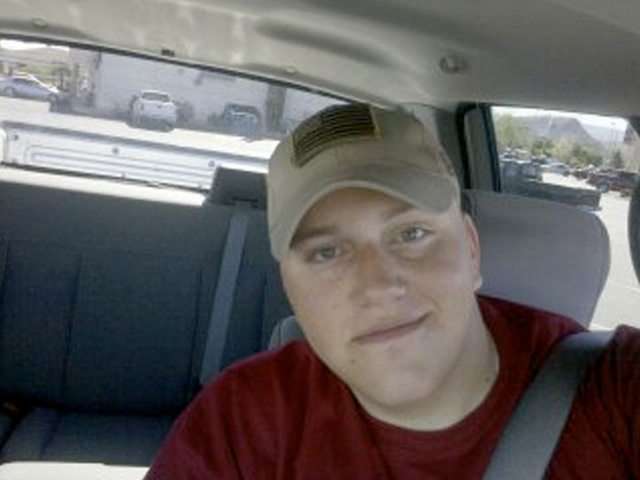 Several items of evidence, including a weapon, were seized from the home, according to deputies. Investigators were sorting through their collected evidence Friday and awaiting completion of the autopsies to tell, among other things, how long the trio had been dead.
Neighbors said Parker and her daughter moved into the house about a year ago from Pennsylvania. Her family lives in southern Utah, according to police.
Eliza attended kindergarten at Enterprise Elementary School. School secretary Tammie Evans said students were told Friday morning that there had been a death, without going into detail, and that a crisis team from the Washington County School District was available if they needed to talk.
St. George attorney Jay Winward, who is a family friend of the Jorgensens and is acting as their spokesman, said the family was declining comment on the details of Landon and Adria's relationship.
"Clearly this is a very tragic event," he said. "Nobody from either side should have to go through an event like this ... a catastrophe like this," he said.
Jorgensen is a former U.S. Marine and gun enthusiast, according to neighbors and investigators. He had a blog, "Guns, Freedom and Politics: One young man's perspective," in which he said he aspired to own a gun shop and shooting range one day. Jorgensen was also the former president of the Red Cliff rifle group.
Jorgensen taught a tactical pistol class as late as June, a post on the Southern Utah Pistol & Revolver website states. He also offered to teach a class for people to receive their Utah concealed firearms permit.
Jorgensen graduated from Pine View High School in 2006, according to his Facebook page. He also listed Vincennes University in Indiana on his Facebook page under his schooling history.
---
"Clearly this is a very tragic event," he said. "Nobody from either side should have to go through an event like this." -- Jay Winward, attorney
---
A profile of Jorgensen on a flyer for a tactical handgun course indicated that he served in the Marines as a "close quarters battle team operator specializing in hostage rescue tactics." He also served as "platoon designated marksman" and claimed to have "a vast knowledge of SWAT and infantry tactics."
On his blog, he wrote, "I am a USMC veteran and was medically discharged for my back issues. When I was discharged I immediately got into being a firearms instructor. My passion is to teach people the correct way to use firearms so that they can be both safe and fun."
He listed "Arguing With Idiots" by Glenn Beck as his favorite book.
At the forum of the website concealedcarryforum.com, where Jorgensen was a frequent contributor, many people expressed shock and sadness over his death.
"I'm physically ill over this right now. My heart hopes the facts are jumbled here," one person wrote. Another wrote, "Unreal. Can't understand this at all."
Another person who knew Jorgensen wrote before police had announced that they believed he was responsible for the shootings, "I simply cannot believe that the kind man I knew would be capable of something like this. … In the end, if it's determined that Landon killed that little girl, I will condemn him myself. Until such a time as it is proven, I'm not going to abandon my friend who i knew very well when he cannot speak for himself and needs me the most."
In a post by Jorgensen on Feb. 26, he wrote, "You show me a woman not on meds, and I'll show you a woman that needs to be."
Jorgensen did not elaborate on the post, but another poster indicated he was talking about his girlfriend.
Jorgensen did not elaborate on the post. But Nathan Collier, the owner of the forum, said in an email late Friday that Jorgensen was talking about his girlfriend. Collier wrote that he thought, at the time, it was Jorgensen's way of expressing his concerns in a humorous way.
"Landon had expressed to me his concerns that Adria had stopped taking her medications for depression," Collier said. "He had stated that it made her very angry and somewhat 'crazy.'"
Collier said he considered Jorgensen a "trusted friend" and called the incident "horrific."
"Prior to this incident Landon was one of the good guys," he said. "He taught people how to protect themselves from these very types of attacks. As his friend, I feel anger, guilt, betrayal and lots of sadness and grief for everyone involved."
Contributing: Andrew Wittenberg
×
Photos
Related stories
Most recent Utah stories