Estimated read time: 2-3 minutes
This archived news story is available only for your personal, non-commercial use. Information in the story may be outdated or superseded by additional information. Reading or replaying the story in its archived form does not constitute a republication of the story.
Sarah Dallof Reporting Kamberlie Binks' body was pulled from Lake Powell Thursday. Now her family is talking about how they're coping and remembering the little girl.
It goes without saying this must be a difficult time for the family. During the search there was what some felt was a glimmer of hope that Kamberlie was alive. A woman said she'd seen a child resembling Kamberlie crying in a neighboring houseboat, prompting law enforcement to issue an endangered persons alert. But Austin Binks says despite that tip, he felt all along the only place his daughter could be was in the water.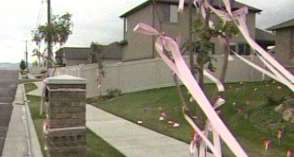 The neighborhood where Kamberlie Binks lived is hard to miss these days. The streets are lined with pink ribbons; pink was her favorite color.
Austin says, "The support of others has held us up. We could not do it by ourselves."
Inside, the 3-year-old's father, wearing a pink tie, says he called her his "little lady." To her mom she was "little princess."
"She would run around, play, jump off furniture, just a sweet, sweet sharing spirit," Austin said.
On Monday Kamberlie and her 4-year-old brother were put in time-out on the family house boat, in trouble for not wearing their life jackets.
Austin said, "Staley ran back in and Kamberlie followed. And Staley came back out and Kamberlie did not. At that point we stopped what we were doing and ran back in the houseboat. No where to be found."
A difficult four day search followed. Dive team members finally recovering her body under 110 feet of water. The family is grateful to them for that closure.
"The compassion they had that we felt as they were looking for our girl, they were looking for us.. They weren't looking for their jobs," he said.
Back home in West Jordan Austin Binks says there is no guilt, no blame, no finger pointing.
Austin says, "Is that healthy? I don't think so. I think that will tear people apart."
There is only the wish that the rest of the world had gotten to know their little girl, a princess and a lady. The Binks say they will someday return to Lake Powell; boating was one of Kamberlie's favorite activities.
Her funeral will be held this Wednesday.
×
Most recent Utah stories