Estimated read time: 2-3 minutes
This archived news story is available only for your personal, non-commercial use. Information in the story may be outdated or superseded by additional information. Reading or replaying the story in its archived form does not constitute a republication of the story.
SANDY — The books were a big hit, now "The Hunger Games" is about to hit theaters nationwide. large crowds lined up Thursday evening for midnight showings at the Megaplex theater at Jordan Commons. For them, the movie was a long time coming.
"We read the books and thought they were awesome," said Marissa Patterson, who was waiting in line with some friends.
In the story, the main character, played by Jennifer Lawrence, is a tough girl. And there's some romance.
"It's like the new 'Twilight,'" said Liam Thomas.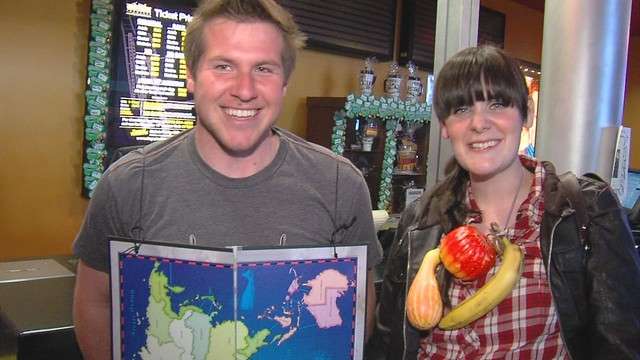 "It's better than that, c'mon!" Anna McConkie quickly broke in.
Still, the hardcore fans insist this series will have a wider audience than that other book series, turned to the big screen.
"In the books you can never stop reading," Andy Carroll said. "It's one of those books you just can't put down."
At the first showings, there were a good number of men too. Many of them went willingly.
"He never reads, and he read the whole (series)," Kat Fuskandrakis said of her friend, Justin Seegmiller.
"I never read," Seegmiller agreed," and I read the entire thing. I'm on the third book now."
Related:
Some fans came showing their own unique love for the books. Talmage Deemeester and Ellesse Hargreaves came dressed as "The Games" and "The Hunger," respectively.
"'Hunger', 'Games' — really clever the ideas you can have at 2:00 in the morning," Hargreaves laughed.
If you have no idea what the hunger games is about, here's a very simplistic explanation: It's based in North America, but it's the future in a post-apocalyptic world. The United States doesn't exist. Instead, there are 12 districts. Each year the mean government makes teenagers from each of those districts fight to the death, and the winner of that contest gets riches for his or her family. That reward means they won't starve again.
The movie is expected to be action-packed and very violent, which is why there is some concern that it may not be appropriate for some of the younger crowd.
There were several private showings Thursday. The movie opens up to the public at midnight.
×
Photos
Related stories
Most recent Utah stories