Estimated read time: 3-4 minutes
This archived news story is available only for your personal, non-commercial use. Information in the story may be outdated or superseded by additional information. Reading or replaying the story in its archived form does not constitute a republication of the story.
LOGAN — It was supposed to be one of the most exciting and happy days in a Cache Valley man's life. Instead, it became the most tragic.
Adam Goodsell had been planning to propose Friday night to girlfriend Goldie Chaney. Late that afternoon, the brakes of his Land Rover failed in Sardine Canyon. He crashed and was ejected. The engagement ring he had just picked up in Salt Lake City was nowhere in sight.
"There was a large amount of debris spread everywhere," Chaney said Tuesday.
Moments before the crash, Goodsell called 911. "I'm driving down Sardine Canyon," Goodsell said in the recorded emergency call. "My brakes went out. My gas pedal is stuck."
The line went dead. The dispatcher said hello and got no answer. Within a minute, other 911 calls started to come in about a crash.
"It's been a really hard last four days," Chaney said. "Better today. It's a lot easier to talk about it now. Before, I just wanted to cry."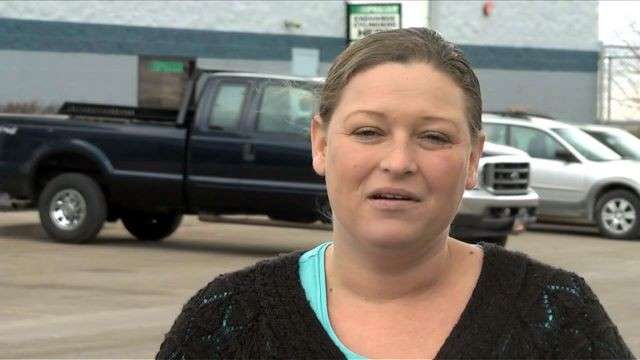 Goodsell is now in the fight of his life at McKay Dee Hospital in Ogden. His head is cracked. His brain is swollen, and he has been under deep sedation to keep his brain from overworking.
Though Goodsell never got to propose, the ring is now on Chaney's finger.
After the engagement ring failed to turn up in Goodsell's personal belongings, Lt. Lee Perry said Utah Highway Patrol Trooper Cory Thomas and others returned to the scene of the crash to recover it.
Perry said it was in its box, in its bag, in the water next to the road.
Goodsell's family, describing it as "the right thing to do" and "what Adam would have wanted," performed an informal ceremony with the ring in Goodsell's hospital room.
"My dad had my brother hold the ring a little bit in his hand - and the box - and then my dad helped put it on her [Chaney's] finger," Goodsell's sister, Emily Byington said.
Chaney said "yes," though she planned to have Goodsell do it over when he is well again.
"It was a cute plan," Chaney said. "But I plan on giving the ring back when he wakes up so he can do it properly." Byington said Goodsell could be in the hospital for weeks to months. The family was uncertain of his prognosis, though sister Carrie Sargent said the doctors expected some sort of recovery.
The family is still coming to terms with the ordeal.
"He couldn't have down-shifted. He would have lost his transmission," Byington speculated. "Turned his car off? He would have lost the steering in his car. There's nothing he could have done except wait for the inevitable to happen."
Perry said preliminarily the investigation confirmed there was some sort of brake failure with the Land Rover, though it was unclear the exact nature of the malfunction.
Goodsell was also not wearing his seatbelt and was ejected from his SUV. His family said that was unlike him. Perry said it was impossible to determine if Goodsell was driving with the belt off, or if he had removed it to try to un-stick his pedal.
Goodsell's family has set up a fund at Wells Fargo under the name Adam Darwin Goodsell.
×
Photos
Most recent Utah stories