Estimated read time: 2-3 minutes
This archived news story is available only for your personal, non-commercial use. Information in the story may be outdated or superseded by additional information. Reading or replaying the story in its archived form does not constitute a republication of the story.
Courtney Orton and Randall Jeppesen ReportingA 60-year-old man accused of luring his neighbor's dog into his yard and then shooting it faced a judge and heard the charges against him today.
Police say Gary Griffiths of West Valley lured the dog into his yard using food, shot it and threatened the animal's owner. The shooting was witnessed by the dog owner's young daughter.
Griffiths appeared before a judge today and was appointed an attorney. He is charged with aggravated assault, animal cruelty and discharge of a firearm within city limits.
Griffiths claims the dog was chasing his cat, but police think Griffiths lured the dog by removing portions of his fence and leaving out dog food.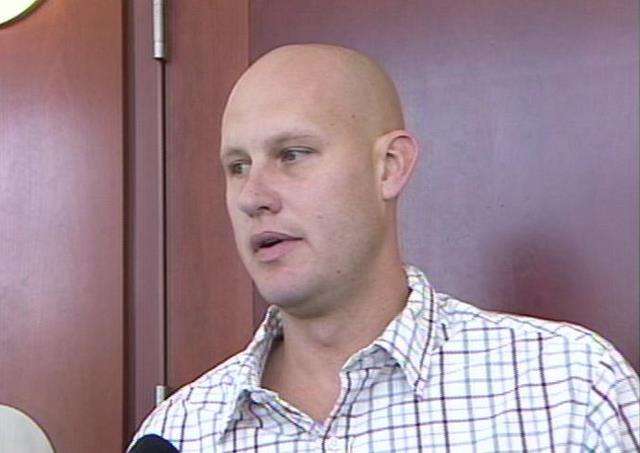 The dog's owner is Ryan Pahl. He and his wife, Malissa, were in court today. They requested that the judge order no contact between Griffiths and any member of the Pahl family. They also wanted Griffiths ordered to stay off their property, and not have or use any firearms until the matter is resolved. The judge granted those requests.
The Pahls say the incident has taken a toll on their family.
"I haven't been in my backyard in a month. My kids haven't been in my backyard in a month. The trampoline sits unused. The lawn sits unmowed. We don't feel safe," Ryan Pahl said.
The Pahls say they're trying to heal from the incident. "We're not functioning right now. Will this help? I don't know. I can hope. I don't know what to do," Pahl added.
The Pahls told KSL they would like to move but can't afford it. They say their 12-year-old son won't even sleep in his bedroom because one of the windows faces Griffiths' house.
Griffiths is out of jail on bond. He is expected to be back in court on October 30.
The Pahl's Pomeranian had to be euthanized because of complications from the gunshot wound.
×
Related links
Most recent Utah stories