Estimated read time: 2-3 minutes
This archived news story is available only for your personal, non-commercial use. Information in the story may be outdated or superseded by additional information. Reading or replaying the story in its archived form does not constitute a republication of the story.
HIGHLAND — A massive highway project is months behind schedule, and the Utah Department of Transportation is blaming the contractor for doing poor quality work.
The reconstruction work on state Route 92 in Utah County was scheduled to be finished nearly a year ago, back in May of 2011. Because of the very wet spring last year, UDOT gave the contractor, Flatiron Construction, an extension until Oct. 20.
Now UDOT representatives say the delays are really the result of quality problems with the construction.
"The quality issues range in degrees of severity throughout the project," said Jose Rodriguez, UDOT project manager.
Rodriguez is supervising the contractor's work on the new and improved Timpanogos Highway. In recent months, he said he's found problem after problem on the $170 million project.
"The most severe, on the quality issues, have been primarily drainage and pavement," Rodriguez said.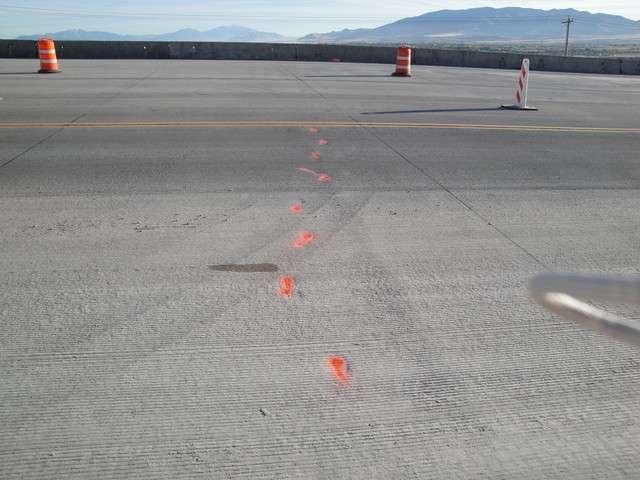 Most of the problems are obvious: concrete that is already cracking, a faulty design of a roadside drain, storm water pooling along the highway, even footprints in hardened roadway.
"There are significant quality issues that we have encountered on this project, you may say unprecedented," said UDOT spokeswoman Heather Barnum.
To make matters worse, Barnum says in some cases there is evidence the contractor has intentionally tried to conceal structural problems with simple cosmetic fixes.
The contractor is Flatiron Construction, which won the bid to rebuild the highway, and construct non-stop commuter lanes from Highland to I-15.
Flatiron responded to UDOT's allegations Thursday by stating: "Although the project has been challenging for a variety of reasons, ranging from right of way constraints to complex project specifications, the Flatiron/Harper and UDOT team will continue to work together to complete the remainder of the project in the shortest time possible, without compromising safety or quality."
Flatiron won the bid for this project three years ago, but the company's relationship with UDOT has become tense. Two years ago, Flatiron lost the bid on the massive I-15 Core project in Utah County, and is the same contractor which received the controversial $13 million payout from UDOT.
UDOT points out, the repairs are made at the contractor's cost, not at the expense of taxpayers. But Flatiron is also facing a $15,000-a-day penalty for not finishing on time. When the highway opens on May 22, that will add up to a penalty of more than $3 million.
×
Photos
Most recent Utah stories