Estimated read time: 2-3 minutes
This archived news story is available only for your personal, non-commercial use. Information in the story may be outdated or superseded by additional information. Reading or replaying the story in its archived form does not constitute a republication of the story.
Sam Penrod and Gene Kennedy Reporting There's a strange twist to a fatal hit-and-run in Holladay last week.
Patricia Rothermich, 64, was killed. At the time, her husband, Sherman Lynch, expressed sorrow and outrage. But now he faces charges for her murder.
Rothermich's loved ones are dealing with even more emotions, because what first seemed like a tragedy now appears to be premeditated murder.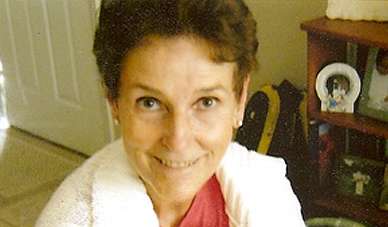 As family and friends arrived to pay their respects to Pat Rothermich Monday night, Pat's husband of eight years was not there to greet them because he is in jail on suspicion of murder.
Lt. Paul Jaroscak of the Salt Lake County Sheriff's Office said, "An intentional act, yes. We're saying this was the intentional act of causing the death of another."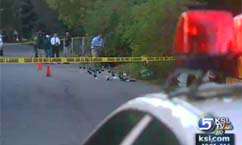 Last Wednesday, Patricia Rothermich was walking down a Holladay road near her home when witnesses reported a white truck hit her from behind, killing her, and left the scene. Investigators were suspicious.
"It appeared to us that this woman was almost all the way to the extreme side of the road, opposing traffic. So to be hit from behind, the person had to go all the way across the road to strike her," Jaroscak said.
Court documents state a tip came in last Thursday from someone claiming to be Lynch's girlfriend, that they recently purchased a truck that fit the description of the suspect vehicle in the hit-and-run. Monday that truck was found hidden in an abandoned garage not far from the accident scene. When deputies found it, it had marks indicative of having been involved in an accident.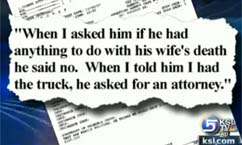 While questioning Lynch, a detective writes, "When I asked him if he had anything to do with his wife's death he said no. When I told him I had the truck, he asked for an attorney."
Lynch spoke to Eyewitness News the day after his wife's death. At that time he identified himself as Sherman Rothermich, not Sherman Lynch. He said, "It would be better for them to turn themselves in than to get caught."
He also offered us numerous explanations about what could have happened and expressed outrage the driver didn't stop.
"That's very callous. She just didn't deserve that in any way, and just to be, in my mind, hit like a mongrel dog," he said. "We're grateful, at least, she didn't suffer. The doctor said she didn't ever know what happened to her."
We checked court records and couldn't find any history of domestic violence between the couple. Formal murder charges against Lynch are expected in a couple of days. For now he is being held without bail.
Pat Rothermich's funeral is scheduled for Tuesday.
×
Related links
Most recent Utah stories