Estimated read time: 2-3 minutes
This archived news story is available only for your personal, non-commercial use. Information in the story may be outdated or superseded by additional information. Reading or replaying the story in its archived form does not constitute a republication of the story.
Tonya Papanikolas ReportingA survey by the American College Health Association says nearly half of all college students report having trouble functioning at some point because of depression.
Universities say they want to help students cope with life's challenges before they get out of control.
The University of Utah is reaching students with an unconventional campaign.
University of Utah senior Tina Torres says, "I have nonstop homework, nonstop studying. I have three tests this week.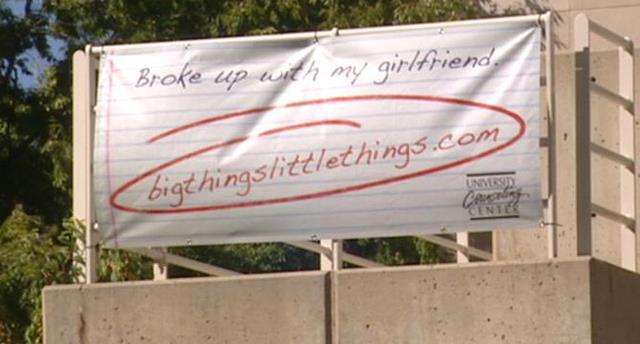 Ask any college student about the stresses of college life, and they're quick to answer. Junior Scott Veenis says, "Balancing school with jobs, with sports, with social events is just tough."
"Mainly, I think being busy is what stresses everybody out and being pressed for money and affording college," says freshman Sarah Christensen.
The University of Utah's counseling center wanted students to know they have a place to turn when life gets overwhelming. To get the kids' attention, counselors decided to create a little stir.
The counseling center hired a marketing firm to handwrite notes on regular paper that looked like they could be any student's thoughts. One note says, "I can't believe life is so hard. I've tried and tried and tried, but not matter what I do, I feel like a failure." Another note says, "I'm having a hard time fitting in."
Lauren Weitzman, University Counseling Center director, says, "The idea would be really to create a buzz around the notes themselves; that students would pick one up and start to read and relate to it.
The counseling staff left the notes where the students would find them: in the student union, in libraries and classrooms. They distributed 5,000 of them. Torres says, "They were in every one of my classes." "At first, I really thought someone left a note behind," says Christensen. "So I was like, 'Oh my gosh, am I reading someone's suicide note or something?'"
Veenis says, "[I] just read the first sentence and eventually read the whole paragraph, and it was pretty disturbing."
But when students got to the end of the notes, they were always directed to the counseling center's Web site.
Christensen says, "I thought that's kind of a good idea for people who feel the same to read it and relate to it."
The counseling center admits some people were taken aback, but it says, overall, its goal worked. "A lot more people know about the University Counseling Center here on campus today than they did last week," says Weitzman.
And a few students have called the center to make appointments.
The university's counselors say students can come in and talk about the little stresses in life or bigger problems.
The first session is free.
×
Related links
Most recent Utah stories