Estimated read time: 2-3 minutes
This archived news story is available only for your personal, non-commercial use. Information in the story may be outdated or superseded by additional information. Reading or replaying the story in its archived form does not constitute a republication of the story.
Amanda Butterfield ReportingA section of state road that serves as the main artery between Gunnison, Levan and Nephi was shut down this morning because of a fire.
A tanker rolled around 7:00 this morning. With the size of the fire it caused, it's good that it was early enough that there weren't many cars on the road.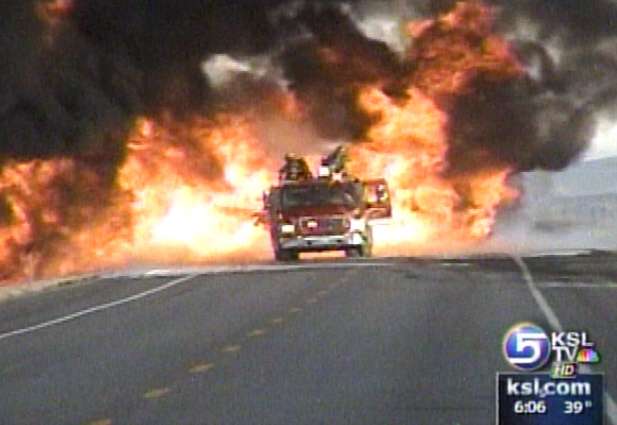 Brad Bradley said, "Tanker fires are always spectacular."
This one on SR-28 was a traffic-stopper.
Brad Bradley is a KSL viewer who shot video of the tanker fire. He is also a conservation officer with wildlife resources. He was called out to the fire to help with traffic.
Bradley said, "As I approached the scene you could see smoke over the hill, which obviously meant some kind of an oil fire."
It shut SR-28 down for seven hours, and traffic was diverted for several hours to I-15 and up U.S. 89 to keep drivers away. Fire and hazmat crews from Gunnison and Salina were on the scene, trying to keep the flames down.
Bradley said, "There was section in the tank, so the fire would die down. And as another section would break, it would flare up again."
Sgt. Jeff Nigbur, with UHP, said, "It's a big fire, you bet, anytime you get 500-600 gallons of crude oil on the road it's a big deal."
The driver told troopers he was trying to move the rig closer to the side of the road to let another car pass, but something happened.
"The wheels on back trailer caught on side of the road, which caused it to flip," Sgt. Nigbur said.
The rear trailer disconnected and caught on fire. The heat was so extreme, UDOT was called in to repair the road and make sure it was safe.
As for the driver, he's shaken up but made it out just fine. No other cars were involved.
Now the road is safe, checked out by UDOT and reopened.
×
Most recent Utah stories